Marketing Series
In this Thought Leaders series organized by Tippie's Marketing department, leading-edge researchers from the field of marketing spoke on some of the most critical issues in the field, such as content marketing, price promotion, and marketing analytics.
Fall 2021
Dr. Wilfred Amaldoss
Duke University
11:30 a.m. - 12:30 p.m. CDT
W401 PBB
Topic: How can Publishers Collaborate and Compete with News Aggregators?
Abstract: Publishers face an existential threat from a variety of news aggregators, such as free aggregators (e.g., Google News, Yahoo! News), micropayment-facilitating aggregators (e.g., Blendle) and subscription-charging aggregators (e.g., Apple News+). We seek to theoretically examine whether publishers can collaborate and compete with the different types of news aggregators and, if so, what pricing and content-sharing strategies should publishers pursue. In the absence of a news aggregator, publishers sell their content as a composite publication; this intensifies inter-publisher price competition and hurts publishers' profits. A free aggregator, however, could help unbundle the articles of a publisher. Moreover, the free aggregator can completely eliminate inter-publisher competition if publishers share articles on the same topic with it, and partially eliminate inter-publisher competition if they share articles on different topics with it. Yet, the free aggregator needs to bring sufficient additional traffic to the publishers to motivate them to share content and collaborate with it. Conversely, publishers will be willing to collaborate with a micropayment-facilitating aggregator even if it does not bring additional traffic to the publishers. This is because a micropayment-facilitating aggregator helps publishers to unbundle their content and price discriminate. Lastly, publishers can be motivated to collaborate even with a subscription-charging aggregator that is powerful enough to dictate the terms of the revenue-sharing arrangement with the publishers. This is because the subscription-charging aggregator improves its profits without hurting the publishers' surplus.
Bio: Wilfred Amaldoss is the Thomas A Finch Jr. Endowment Professor of Marketing at Duke University. He received his Ph.D in Marketing in 1998 from the Wharton School of the University of Pennsylvania. He holds an MBA from the Indian Institute of Management, Ahmedabad. He has taught earlier at the Krannert Graduate School of Management of Purdue University.
He is interested in understanding strategic behavior in the context of pricing, interorganizational relationship, and new product development. Recent publication credits include "Media Platform's Content Provision Strategy and Source of Profits," Marketing Science. 2021, (with Jinzhao Du and Woochoel Shin), "Reference-Dependent Utility, Product Variety and Price Competition," Management Science, 2018, (with Chuan He), "Branding Conspicuous Goods" (joint with Sanjay Jain) in Management Science, 2015, "First-Page Bid Estimates and Keyword Advertising," (with Preyas Desai and Woochoel Shin) Management Science 2015.
He is an Associate Editor of Management Science (Marketing Department), and an Associate Editor of Journal of Marketing Research. He received Distinguished Service Award from Management Science in 2009, 2010 and 2011 for his service as Associate Editor.
In 2001, his research received the Frank M. Bass Award. The INFORMS College of Marketing gave this award in recognition of the best marketing paper derived from a Ph. D. thesis published in an INFORMS-sponsored journal (Marketing Science/Management Science). In addition, he received the John C. Little Award, for the best marketing paper published in Marketing Science or Management Science. He was also named the Jay Ross Young Faculty Scholar in 2000. In 2011, his work was a finalist for Long-Term Impact Award for a paper published in Marketing Science/Management Science.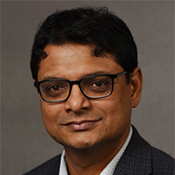 Dr. Rajesh Bagchi
Virginia Tech
11:30 a.m. - 12:30 p.m. CST
W401 PBB
Topic: Package Offers, Price Rates, & Promotion Sensitivity
Abstract: Consumers are often faced with package offers in the marketplace and have to figure out how to evaluate them. One strategy is to compute a rate, a ratio between the quantity and the price, which serves as a common metric for comparison. The authors show that when the price element is larger than the quantity element, consumers who calculate a rate are more sensitive to prices and promotional offers. This is because consumers are inclined to calculate rates consistent with an intuitive model of division that dictates the numerator be larger than the denominator. The intuitive model of division leads consumers to compute dollar per unit (DPU) rates when price is larger than quantity but unit per dollar (UPD) rates when quantity is larger than price, leading, in turn, to a differential emphasis on price in evaluations.
Bio: Rajesh Bagchi is the R.B. Pamplin Professor of Marketing and Department Head at the Pamplin College of Business, Virginia Tech. Rajesh received his Bachelors degree from the Indian Institute of Technology (IIT), Mumbai in Civil Engineering in 1998 and his Masters degree from the University of Cincinnati in Environmental Engineering in 2000. Rajesh worked in several high technology start-ups before obtaining his Doctoral degree in Marketing from the University of Colorado, Boulder in 2008.
Rajesh studies how consumers can be nudged into making better decisions for themselves and for societal well-being. His research lies at the intersection of several fields, including marketing, psychology, economics, finance, and education. Rajesh's research encompasses the entire gamut of consumer decision-making—from information processing, to making a purchase, to post-purchase evaluations. He identifies important gaps in how consumers process numerical information and delineates interventions to mitigate such gaps. He also studies how different market mechanisms (e.g., auctions, negotiations) affect purchase behaviors. Finally, he investigates how post-purchase evaluations impact disposal decisions, which has important societal and environmental implications.
Rajesh's research has been published in several journals such as the Journal of Consumer Research, the Journal of Marketing, and the Journal of Marketing Research. Rajesh serves as an Associate Editor for the Journal of Consumer Research and the Journal of Consumer Psychology, and is on the Editorial Review Boards of several other journals. Rajesh is consistently ranked among the Top 30 most productive scholars worldwide based on publications in Marketing's premier journals. Marketing Science Institute selected Rajesh as a Young Scholar in 2013 and as a Scholar in 2020. Rajesh also received an Early Career Award from the Society for Consumer Psychology in 2016.
Dr. Pradeep Chintagunta
University of Chicago
11:30 a.m. - 12:30 p.m. CST
W401 PBB
Topic: Impact of Marketing Analytics 1.0 on Entrepreneur and Firm Performance: Field Experiment Evidence from Rwanda
Abstract: This paper studies the impact of adopting Marketing Analytics 1.0 on small firms and their owners' performance. We provide insights on three questions. (1) What is the effect of adopting Marketing Analytics 1.0 on firm performance? (2) What is the mechanism through which this effect, if any, operates? (3) Does it cause changes in the individual entrepreneurs' analytical ability and decision making? Using a randomized controlled field experiment with 550 firm-owners in Rwanda, we find a positive and significant causal effect of adoption on firm sales (a 45% increase) and profits (a 36% increase). We also show that adoption of Marketing Analytics 1.0 leads to firms' engaging in more analytical activities which are product-related (direct effect) and accounting related (spillover). Finally we find novel evidence of Marketing Analytics 1.0 leading to an improvement in entrepreneurs' analytical abilities. These results have important implications for policy-makers and managers interested in improving firm performance.
Bio: Pradeep K. Chintagunta is the Joseph T. and Bernice S. Lewis Distinguished Service Professor of Marketing at Booth School of Business, The University of Chicago. He is interested in empirically studying consumer, agent and firm behavior. He has studied packaged goods, pharmaceutical, technology and online markets to answer questions related to pricing, advertising and channels of distribution. More recently, he has started working in "development marketing" – studying the role of marketing in economic development. "I am interested in studying how marketing practices can impact small businesses and entrepreneurial enterprises in emerging economies and how we can leverage marketing knowledge to improve health outcomes."
Chintagunta is on the advisory editorial boards of Marketing Science, Quantitative Marketing and Economics, and the Journal of Marketing Research. His research has appeared in the Journal of Marketing Research, Marketing Science, Management Science, Quantitative Marketing and Economics, the International Journal of Research Marketing, the Journal of the American Statistical Association, and the Journal of Econometrics. In addition to being a finalist for the O'Dell award in both 1996 and 2001, Chintagunta is the recipient of the Hillel J. Einhorn Award for Excellence in Teaching and has been named one of the Chicago Booth's top professors by BusinessWeek.
He earned a bachelor's degree in mechanical engineering from Banaras Hindu University in 1984, a postgraduate diploma in management from the Indian Institute of Management in 1986, and a PhD in marketing from Northwestern University in 1990. In addition to teaching at Chicago Booth, he has taught courses at the Harvard Business School and the S.C. Johnson Graduate School of Management at Cornell University. He joined the Chicago Booth faculty in 1995. Pradeep serves on the advisory boards of Operation ASHA, MuSigma and Syntasa and on the Board of Governors of his alma mater, the Indian Institute of Management, Ahmedabad. He collects vintage electronics, enjoys traveling, movies, and spending time with his family.