A year after starting his Iowa MBA, Jon was promoted to a director-level leadership position on the product development team.
---
Executive MBA program paves the way to career growth
Having built a 13-year career at Transamerica Life Insurance, Jon Fortune didn't want to leave his company, but he knew he needed to diversify his skill set to move up.
A year after starting his Iowa MBA, Jon was promoted from leading an independent sales force to the product development team, where he's digging into new products, pricing methodologies, and customer engagement.
Jon shares how he's developing the business expertise now to stay at the top of his game all career long.
What do you want most from your Iowa MBA?
A new network of growing leaders from the community. The 24 folks in my class have really learned a lot from each other, and I've built some great friendships, too.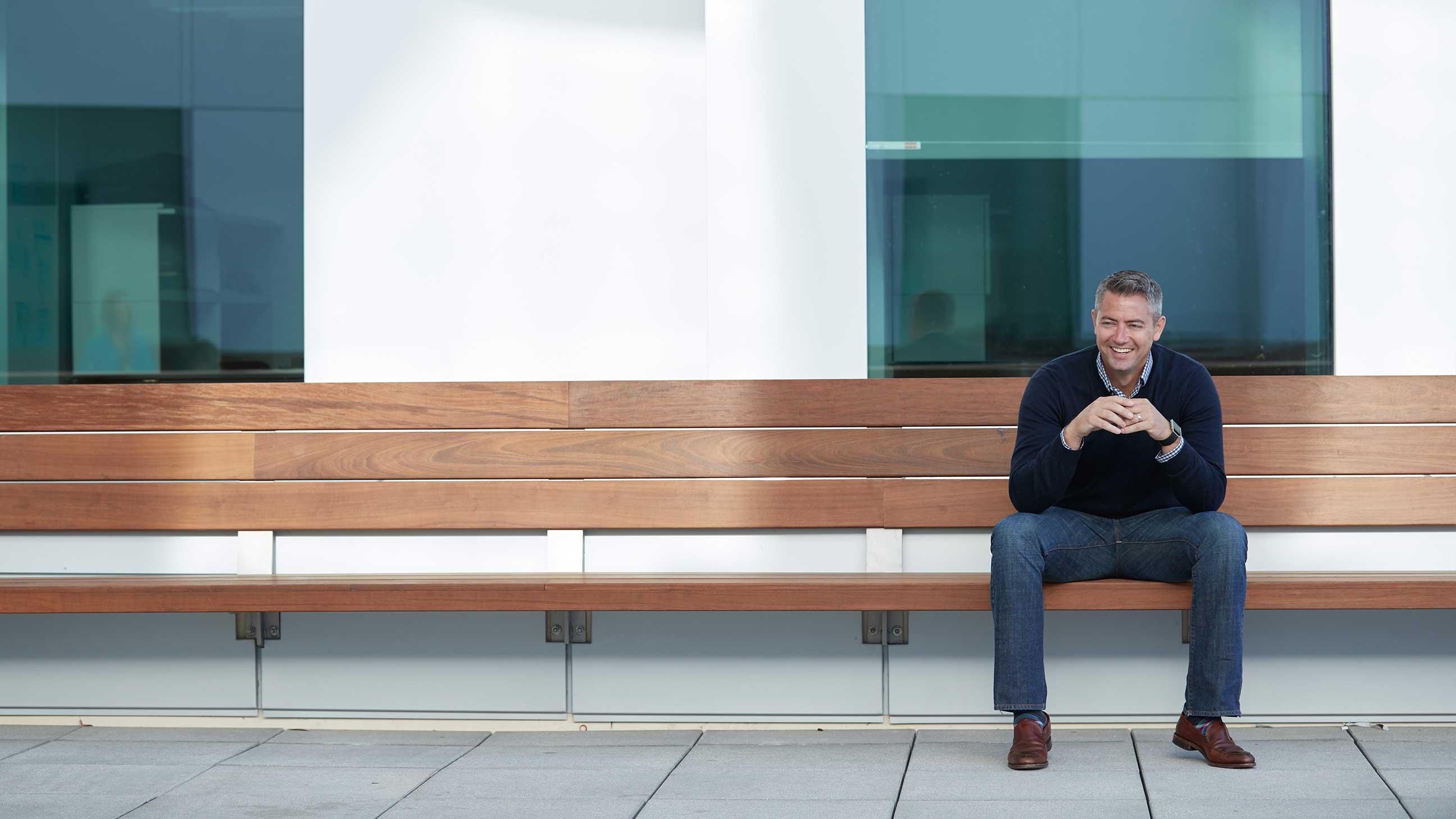 "Being from eastern Iowa, to have close friendships with classmates from Pakistan, India, and South Africa is not something you're always exposed to. That's been great, just on a personal basis."
You just returned from the International Business Seminar in China. What did you do?
We learned from a ton of great companies in China, like Intel and Lenovo. It was interesting to see both sides of a growing company that has some challenges and to learn from professionals who are seasoned in doing business in China. It was a once-in-a-lifetime experience to spend 10 days in Beijing and Shanghai with my classmates, to learn from company visits, and culturally to have some great experiences. It was a great way to bring us all together.
How has your role changed at Transamerica since starting the EMBA program?
If I were able to pick my own leadership development path, this would have been the job and division I would have selected for myself. I'm working with our product development team on our retirement planning and record-keeping business. I'm helping to lead the way on new products, pricing methodologies, and new ways we can engage with our customers.
How has Tippie helped you lead the product development team?
By getting into the economics of the products themselves, and understanding the different margins and impacts of our financial measurement tools. My change management leadership class opened up my eyes to some new methodologies. At work, I've been tasked with helping to revisit one of our processes, and I have to get a lot of buy-in from different areas. One of the concepts that was introduced in class was John Kotter's change management process. It has been useful to have this knowledge when thinking through what I do.
How are you able to fit in time for Tippie, coursework, your commute, and life outside work and class?
The faculty has been understanding. We're all trying to balance a busy work schedule, travel, as well as family and studies. I have a great team and schedule. Since the program is scheduled out two years ahead, we've really built our teamwork and coursework into that schedule. I know on Tuesday nights I'm going to be meeting with my group. Most of the time we meet virtually and review the assignment, and then divide and conquer.