Andrew Shao invented the Desk Buddy, which he pitched to "Shark Tank" star Daymond John—and won.
---
Pivot from pre-med to entrepreneur
Andrew Shao didn't just survive the Iowa "Shark Tank." He won.
Andrew created the Desk Buddy, a desktop expander, after his overcrowded desk wrecked his performance on a statistics exam.
Read how switching from pre-med to management gave Andrew the push to turn a great idea into a serious business.
#1: Fuel your passion
Andrew knew he loved turning ideas into action, and wanted a career where he could be creative and people-focused, but also be his own boss.
Taking an entrepreneurial strategy course with Professor David Hensley, executive director of Iowa's John Pappajohn Entrepreneurial Center, solidified his decision. He learned how to manufacture a product, how to price and market it, how to target customers, and how to execute a business strategy.
"That class gave me the entrepreneurial fire to say, 'I can really do this and create something of my own.'"
#2: Get the idea—and tools—to make it happen
The following semester Andrew became so cramped by his cluttered desk that he couldn't concentrate on acing his statistics exam. There he was, trying to bubble in his answer sheet, but he couldn't make room for his calculator, notepad, pencil, eraser, and the test itself.
This was the big idea he'd been waiting for.
"Not having enough space decreases focus and increases the amount of time it takes to complete the test. I knew I wasn't the only student who had this problem, so I thought to simply create an extension for the desk."
Andrew first pitched the Desk Buddy idea in his entrepreneurial marketing course. When he was accepted into the Founders Club at Iowa's Bedell Entrepreneurship Learning Laboratory, he had the office space, one-on-one coaching, funding, and network to move the Desk Buddy from concept to LLC.
#3: Perfect your pitch
Andrew never stops pitching the Desk Buddy. He even delivered a video pitch to "Shark Tank" judge Daymond John and won three Iowa business plan competitions and $7,500 in cash.
Preparation is key, so he practiced the pitch a hundred times before presenting to an audience of about 1,000 people at HawkPitch.
"The way you go about articulating your idea will make a world of difference," he says. "You could have one of the greatest products in the world, but if you can't communicate your idea to a person efficiently and effectively, then things won't go so well."
#4: Network with Iowa City entrepreneurs
At Startup Weekend Iowa City, where entrepreneurs get feedback about their startup ideas, Andrew met a Rockwell Collins engineer who helped him create a CAD modeling prototype. He took that model to Iowa's 3-D printing labs to fashion two prototypes for his business plan competitions.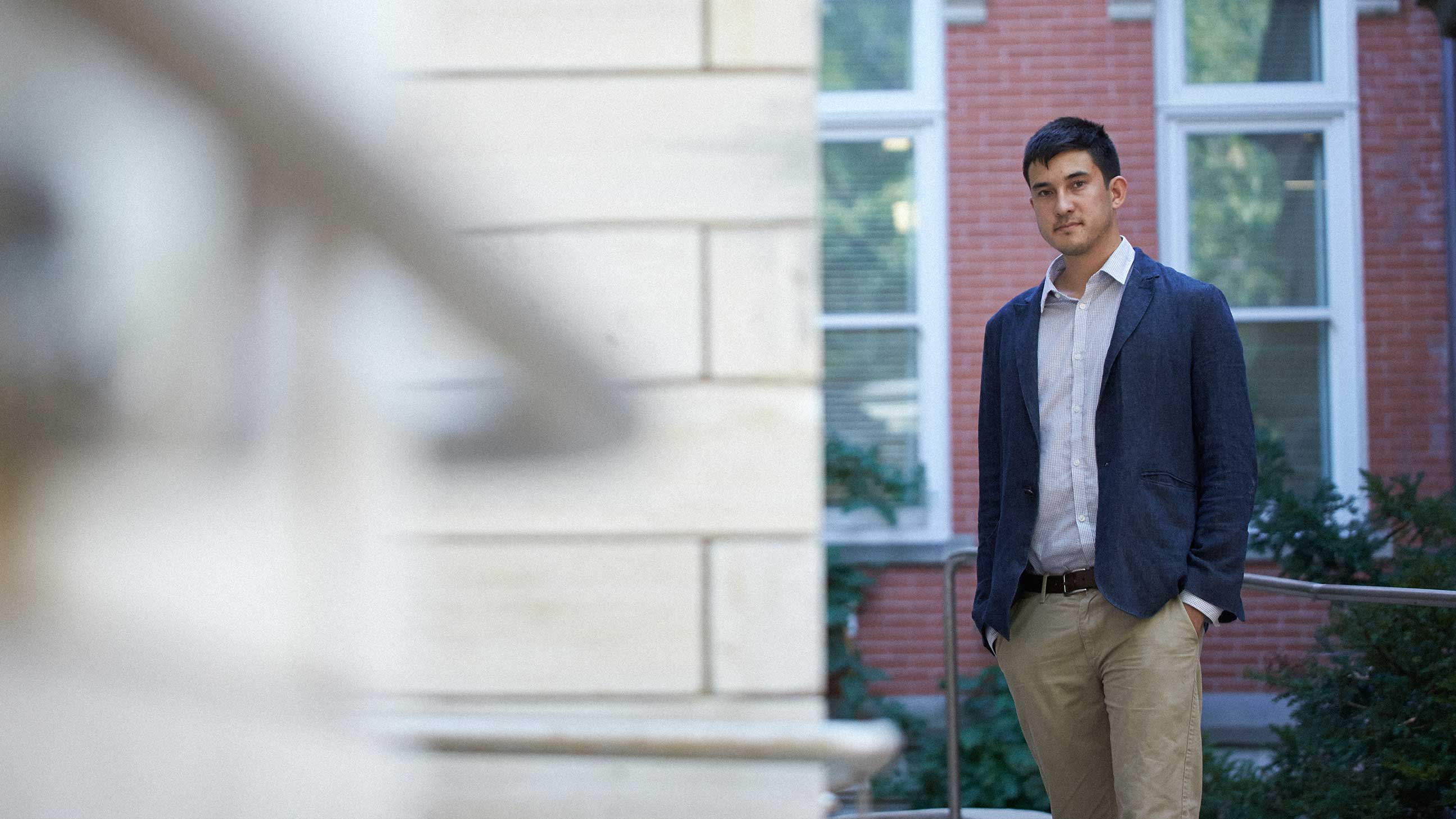 "Don't go to a networking event with a hidden agenda. Go in with the mindset that you're meeting new people who can help you, but also meeting people who you can be friends with. I'd go to every single networking event possible. Eventually, things will emerge out of those opportunities that you didn't even think of."
#5: Roll up your sleeves
But was there a true demand for his product? Using a business model canvas tool, Andrew identified key customer relationships, revenue models, and customer discovery strategies to inform his next steps.
He interviewed 400 people, and about 347 recognized a need for the product and said that they would probably purchase it for $10 to $15.
"Every student will need one at some point, whether you're an English major or business major. The Desk Buddy is not just for testing. You can bring it to a lecture and use it to extend the space to put your telephone on or a cup of coffee."
He's now partnering with another engineer to refine the design and find the best manufacturer. Once the final design is complete, he'll cast the Desk Buddy out of aluminum, manufacture the product, and distribute it to retailers across the Midwest.
"We want to make sure that we test the market in 5 or 10 retail stores first to see how the market reacts. And then make iterations based on customer feedback before we try to work with larger distributors who could get it into 1,000 bookstores."