Tippie Analytics wins major international analytics award
The Tippie College of Business at the University of Iowa has been honored as one of the top colleges in the world for preparing students for careers in business analytics.
Tippie Magazine is published semi-annually for alumni and friends of the University of Iowa Tippie College of Business.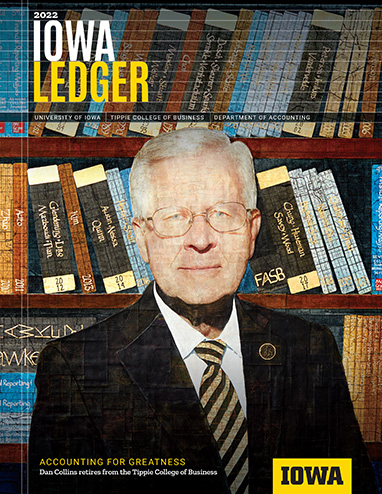 An annual publication for alumni and friends of the Department of Accounting at the Tippie College of Business.
Exchange is an annual publication for friends and alumni of the Tippie College of Business finance department.
Tuesday, December 6, 2022 12:00pm to 2:00pm
Let the Iowa JPEC Undergraduate Student Incubator help you turn your idea into a successful business. Jay Cooper, director of the University of Iowa John Pappajohn Entrepreneurial Center Undergraduate Student Incubator, will hold office hours to discuss your idea or project and how Iowa JPEC and the incubator can help you turn that idea or project into a revenue-generating business through our on-campus resources. Cooper will also discuss the benefits of joining the incubator program, as well as...
Saturday, December 17, 2022 1:00pm
Doors open one hour prior to the start of the ceremony. No tickets required.
Wednesday, January 11, 2023 12:00pm to 1:00pm
You've worked hard, saved your money, and now you're starting to think about retirement. Can you retire early? How do you cover health care during retirement? Learn more about the lifecycle of spending during retirement, how to plan for retirement, and different social security withdrawal strategies. Moderated by Tippie faculty member Cathy Zaharis (BBA 82) with participation from panelists Jim Wessels (BBA93/MBA99), Partner and Financial Advisor at Vision Financial Group, and Justin Ryan (BA05)...
View more events
Get the perspective of leading women in analytics and learn about their unique challenges and opportunities.
A series of events providing insights and inspiration to women in business in Iowa and around the world.
A workshop dedicated to de-mystifying the field of business analytics and supporting emerging PhD students and post-docs.