Brandon Parejko found his second home at Tippie—and helped other students feel just as welcome through his work as a Business Student Ambassador.
---
Hard to beat for building community
As the son of a Purdue alum, Brandon Parejko initially thought he'd be wearing another shade of black and gold as an undergraduate. But when his mom offered him a day off school to tour the University of Iowa, he agreed to keep an open mind.
"The minute I walked through Tippie, I knew this was where I was going to school," he laughs. "I applied the next day and never looked back."
Creating home on campus
Because he felt so welcome when he arrived on campus, Brandon felt inspired to pay that feeling forward as a Business Student Ambassador. His role includes giving prospective students tours of Tippie, presenting fun facts and information, and answering their questions about life on campus.
"My job is to be a storyteller," he explains, "to talk to a lot of different people, see where they're at, give them my perspective, and hopefully persuade them to come to Tippie."
A big part of this job is helping prospective students understand that they're in control of their experience—whether they're looking to immerse themselves in the larger Iowa campus or find their niche within a smaller business school community.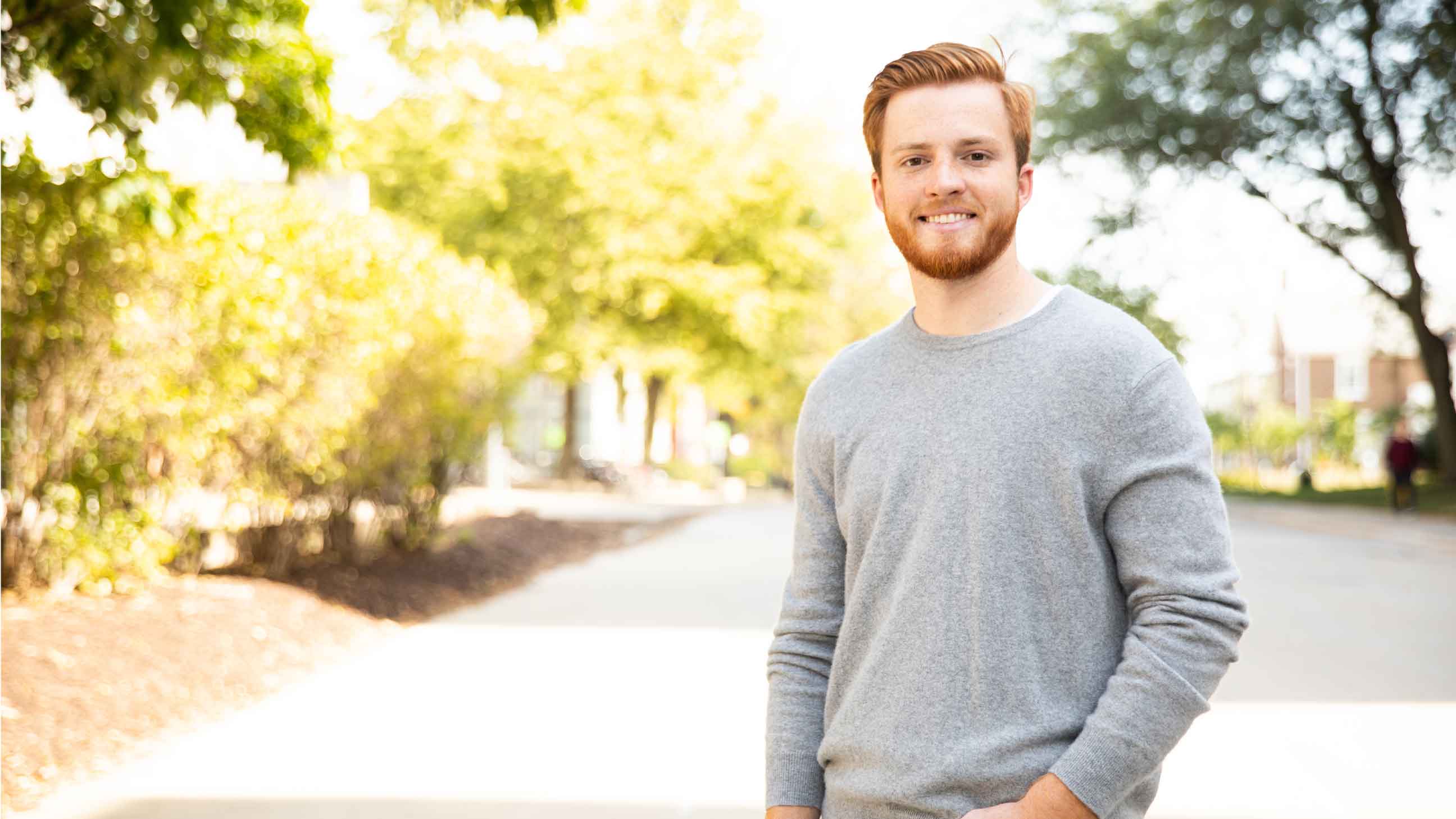 "There's this massive university of 30,000 people, where if you want to, you can meet somebody new every single day. And then in Tippie you can walk around and know almost every face you see. It really becomes a small home. They aren't kidding about that."
Not just a number
Despite his first lecture being around 350 students, Brandon was surprised that the warmth he experienced during his initial campus visit extended to his professors as well.
"I thought being on campus would be like the movies. You'd go to a huge lecture and back to your dorm and that was it," he says. "But my very first lecture, the professor walked up and down the aisles, shaking hands, and introducing himself."
Getting to know his professors by name, and vice versa, gave Brandon confidence to pop into office hours if he had a question—whether about an assignment or about life in general.
"It's a really comforting experience, to know that your professors want you to succeed, and they want you to do well," he explains.
No risk, big rewards
Initially set on a career in finance, Brandon found himself drawn to accounting after taking some business core courses.
But his new focus on accounting didn't deter him from exploring the hands-on learning opportunities available in his finance major—including working on the Krause Fund. Through Tippie's Applied Equity course, Brandon partnered up with a friend to research, analyze, and value companies based on their findings. The team then presented their project to a team of financial professionals for possible inclusion in the Krause Fund portfolio.
"You don't get a chance at many other schools to work with real money, real companies, real investments," he says.
Brandon encourages every finance major to take advantage of this unique chance to prepare for their future career. In speaking with alumni, he's learned that recruiters often point to Applied Equity as a must-have on Tippie graduates' resumes.
"It's a once in a lifetime opportunity to work on this type of project with no repercussions, in the safety of the classroom. Even if you fail, you won't get fired," he laughs.
Drawing on a deep network
Throughout his time at Tippie, Brandon has looked for ways to use his strengths to build community. In his work as an ambassador, by participating in Volunteer Income Tax Assistance program, and as a student mentor, he's put an emphasis on supporting his community.
"Everything that I've been involved with as a student has been with the goal of helping others or giving back," he says.
And with his sights set on an accounting career with Deloitte in Minneapolis, he intends to lean on the extended Tippie family to find his footing a new city.
"Tippie alumni are amazing, they're everywhere, and they're all extremely helpful. If you ever need anything for a job, life advice, even knowing where to live—the connections you make at Tippie are unmatched."