For marketing major Christian Williams, the Tippie College of Business is about the connections you can make—and where they can take you. 
---
Pivot from having a vision to making it happen
From starting his own marketing agency while still in school, to holding multiple internships, Christian Willliams took advantage of Tippie's close-knit community to find his own path. He also built professional connections to pursue his dream role in brand strategy.
See how he's putting all of his connections into play.
#1: Don't wait to start something big
Since taking his first marketing class in high school, Christian's goal has been to start his own marketing firm. And during his sophomore year at Tippie, he launched SunUp Digital Marketing.
"My whole plan through college was to start a marketing company after college—after I got some professional experience first," Christian said. "Then I had a networking dinner for the University of Iowa, and a mentor asked me, 'Why don't you start your own business now? I'll help you get it off the ground.'"
The offer was irresistible.
After his mentor connected him with his first clients, Christian designed logos, websites, and social media campaigns for everyone from a travel blogger to a pro athlete starting a new business to his own sister opening her bakery.
"Tippie does a really good job of connecting students to the correct alumni in order to launch their careers. I would have never started my business during my sophomore year—or probably during college if Tippie hadn't placed me next to the right people who shared my interests and passions."
#2: Explore every opportunity
Another sophomore year "a-ha" moment came at a campus career fair, where an Aflac recruiter connected Christian to his first internship. Focused on sales, he networked with Iowa City and Cedar Rapids businesses trying to convince them to partner with Aflac. His greatest challenge was learning how to deal with rejections.
"I learned that I don't really like sales that much anymore," Christian chuckled. "But then I realized, now I know how to work around these noes, turn them into positives and generate new relationships with people."
For a second internship, he landed a creative marketing role with the Village of Gurnee. His primary projects involved creating ads for Gurnee's Legions of Craft Beer Fest and driving traffic to a new farmers' market through social media.
"Gurnee once had a farmers' market but stopped it because of limited attendance," Christian said. "I had two months to generate traffic to the first farmers' market day, and over 800 people came. We were really excited about the turnout."
#3: Hang with the best
As a junior, Christian scored a spot in the Marketing Institute, a competitive three-semester program that mixes skill-building classes with experiential learning. (Only the top 15 to 20 students get accepted.)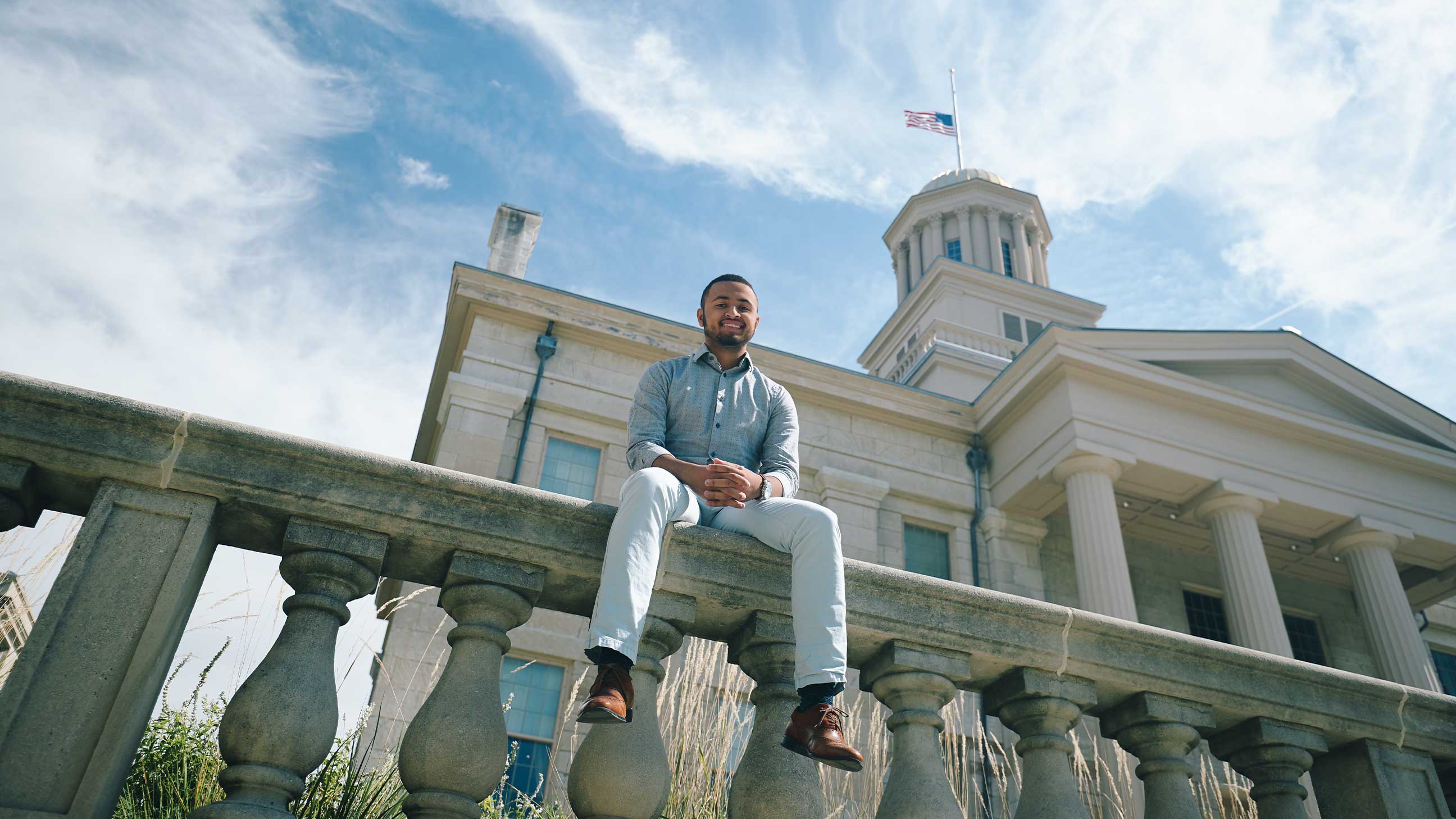 "My greatest academic achievement at Tippie has been getting into the Marketing Institute. Not only am I immersing myself around students with the same driven mindset, but I'm also getting really great hands-on experience with actual businesses. This will help me thrive in my career later on."
One project involved conducting a focus group to understand what students would want in a campus innovation center and another involved competing against classmates to develop a brand strategy for Mason City's North End and pitch the ideas to the Mason City Board.
"None of the four groups presented the same strategy," Christian said.  "My team didn't win, but the thing I learned most was that a brand strategy can go a thousand different ways."
#4: Develop relationships that last
Throughout his program, Christian's grown his network, from current students to professors to alumni. He's called on his Tippie alumni connections to introduce other business students to job recruiters and industry leaders. And he doesn't hesitate to pop into the dean's office when he needs advice.
Christian appreciates the openness and availability of faculty and alumni, and plans to pay it forward.
"Stay connected to as many people as possible—that's one of my biggest goals. And this goes further out than graduation. I want to be one of those alumni who are asked to come back and talk to students, get involved on the Young Alumni Board," he says.