After Eduardo Silva joined Tippie's Marketing Institute, his college career soared. 
---
Don't compromise on your future career.
When Eduardo Silva entered Iowa as a nursing major, he knew that it wasn't the right fit, because he was itching to start his own business someday. He brainstormed possible career avenues with his friends, who all happened to be business students.
"I learned that marketing majors had the most flexibility to start a career in consulting, advertising, sales, et cetera," Eduardo said. "This meant that I had more opportunity for getting a job straight out of college."
He changed his major to marketing, joined Tippie's Marketing Institute, and watched his college career soar. He'll graduate having served as the vice president of the American Marketing Association with heaps of consulting experience with clients like Toyota, Fox Sports and Mediacom—all relationships that led him to an exciting new job at Oracle.
To get results, listen
The Marketing Institute, a three-semester program for Tippie's top marketing students, connects students with real client projects. Eduardo's most memorable Marketing Institute project involved working with Toyota of Iowa City. Along with three other students at the institute, he helped a local dealership launch a full-blown campaign targeted at millennial customers.
Throughout the project, he also collaborated with local agencies Annex Analytics and DeNovo Marketing, which helped his team interpret Toyota's sales data and understand consumer habits—which car models millennials were purchasing and when they were buying them.
"It sounds basic, but it was really valuable to learn how to communicate with different teams, and different types of people," he said. "You realize that emotional intelligence is more important than people think, and that listening, really actively listening, makes a huge difference when it comes to getting the job done."
Eduardo and his team dove into the demographic data. They pitched a comprehensive marketing strategy for social media platforms, sales strategies for the sales reps, and local marketing events for promotional campaigns in Iowa City.
"It was rewarding to provide all the agencies with the research that we'd done—knowing it'd be the basis for their communications moving forward," Eduardo said. "They were all very excited about learning how to leverage social media platforms for promotions and using the service department to attract new customers."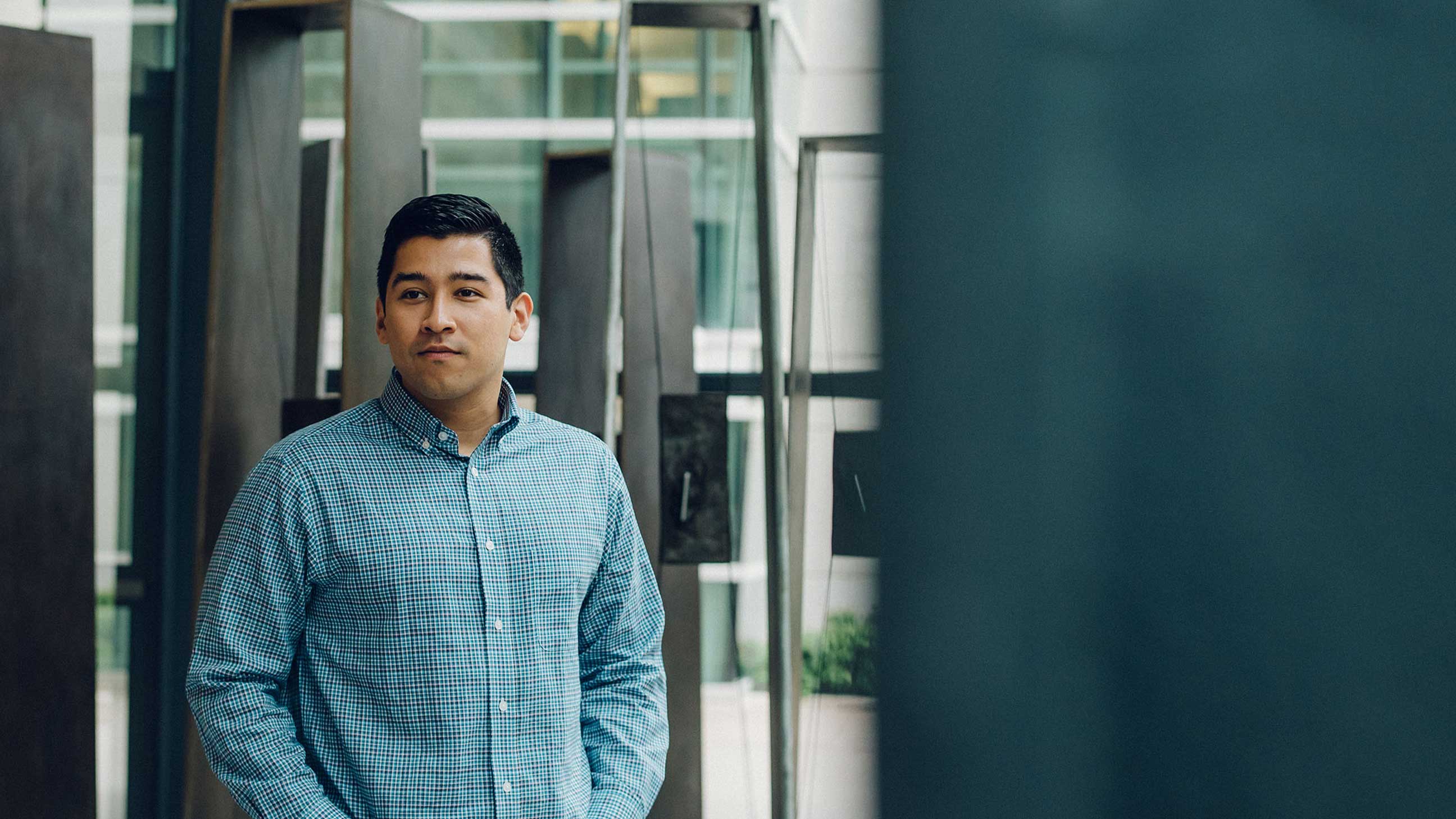 "The Marketing Institute empowered me to become a young working professional. The level of work ethic, professionalism, and real-world experience is unparalleled. Everyone who is a marketing major should be applying for admission into this prestigious program."
Once you've found your direction, lead others
After finding his footing at Tippie, Eduardo embraced opportunities to help others.
Approached by his advisor Gabriela Rivera, Eduardo was given the opportunity to talk to a local middle school with a large population of underrepresented and first-generation students.                      
"We spoke with them, as mentors, about the advantage of an upper-level education," Eduardo said. "It's one of my favorite memories during my time at Iowa—because I grew up in a low-income neighborhood, and I never had a mentor from a university who stressed the value of a degree. I could definitely relate to the students in that situation now."
It wasn't just mentorship Eduardo had a knack for. He excelled at leadership. During his time at Iowa, he got heavily involved in the American Marketing Association, where he worked his way up to vice president, and where he got the lead for what would become his job after graduation.
Know your strengths, and trust in them
Upon graduation, Eduardo started his career with a sales position at Oracle—an IT company based in Austin, Texas. It's a position that plays on both the skills he's mastered at Tippie and the potential he's hoping to realize.
"I learned at Tippie that I'm a people person, that I enjoy working in teams. So this is where I feel I'm exploiting my biggest asset—just being able to communicate with different groups, and to communicate value."