Learning how to adapt her personal communication style as a way to understand others became central to Elizabeth Sturms' success at the Tippie College of Business.
---
Build on your strengths, help others succeed
After Elizabeth Sturms aced the Business Communication and Protocol course sophomore year, her professor urged her to use her talents to mentor others. So Elizabeth signed up to be a tutor in the Frank Business Communications Center—a place where Tippie students at all levels get one-on-one coaching on communication challenges.
"At first, I thought, 'What do I have to teach other students?'" Elizabeth said. "But it was probably one of the best experiences I ever could have done in my time at Tippie. What surprised me was how much I learned from other students and about my own communication style."
Unsure about an opportunity? Push yourself
As a tutor, Elizabeth helped students prep for job fairs, improve their essays, polish presentations, and practice whatever else would help them communicate more effectively. She worked with students from both the United States and abroad. And after studying in Spain in her junior year, she gained a new appreciation for the program.
In Spain, she took all her classes in Spanish—even her two business courses—and she lived with a host family to experience Spain like a local.
"When you're abroad and speaking in a language that's not your native tongue, you get really good at communicating and figuring out how to handle any situation."
"Once I came back from Spain—after being in the position of an international student—tutoring those students became so much more meaningful," she said.
From her time at Tippie and in Spain, she learned to be hyperaware of her audience. 
"Being able to convey ideas to people who may not speak the same language as you is something that I find myself using today," she said. "I work in IT, and being adaptable really helps in communicating with marketing, sales, or people outside IT. I can draw on that experience and make something understandable for someone who doesn't speak the IT lingo."
Be open to the unexpected
After helping countless students prep for job fairs at the Frank Center, Elizabeth realized some unexpected outcomes from following her own advice.
"Job and interview fairs have 200-some booths, so you go into it with a list of employers you really want to talk to," she said. "To get your nerves out, I had always heard you should pick a random booth or two to start with. Chat with a company that's not on your list." So she approached a startup pharmaceutical company that she'd never heard of before. After 10 minutes talking to a recruiter, she was impressed enough to interview for an IT analyst internship the next day.
"I wanted to understand how what I was doing in the classroom translated to what people do in day-to-day jobs in the IT field," she said.
After landing the internship, she found herself in the middle of an unexpected, exciting project. Her company was acquired by global biopharmaceutical company Shire. "My job was to make sure that we had all the application systems and bugs fixed by the end of summer so that my company could transfer all of the data into the new system under Shire," Elizabeth said. Upon graduating, Elizabeth accepted a full-time job with Shire—signing a two-year rotational contract.
From passion comes success
From interpreting marketing metrics for field reps to supporting the communications team in social media, she's experiencing IT through the company's different departments. Her position allows her to tap into her expertise in business analytics and marketing.
"The goal is to rotate members throughout different functions of IT to make us well-rounded IT professionals," Elizabeth said. "At the end, I'll transition into a full-time role at Shire. I can use my rotations to get experiences I want, trying to find out where I fit best and what the company needs from me."
Working in pharmaceuticals, she'll not only be studying data to make changes. She'll be making changes that make life better for patients.
Elizabeth will be diving into the numbers, making processes more efficient, and getting lifesaving medication to people quicker.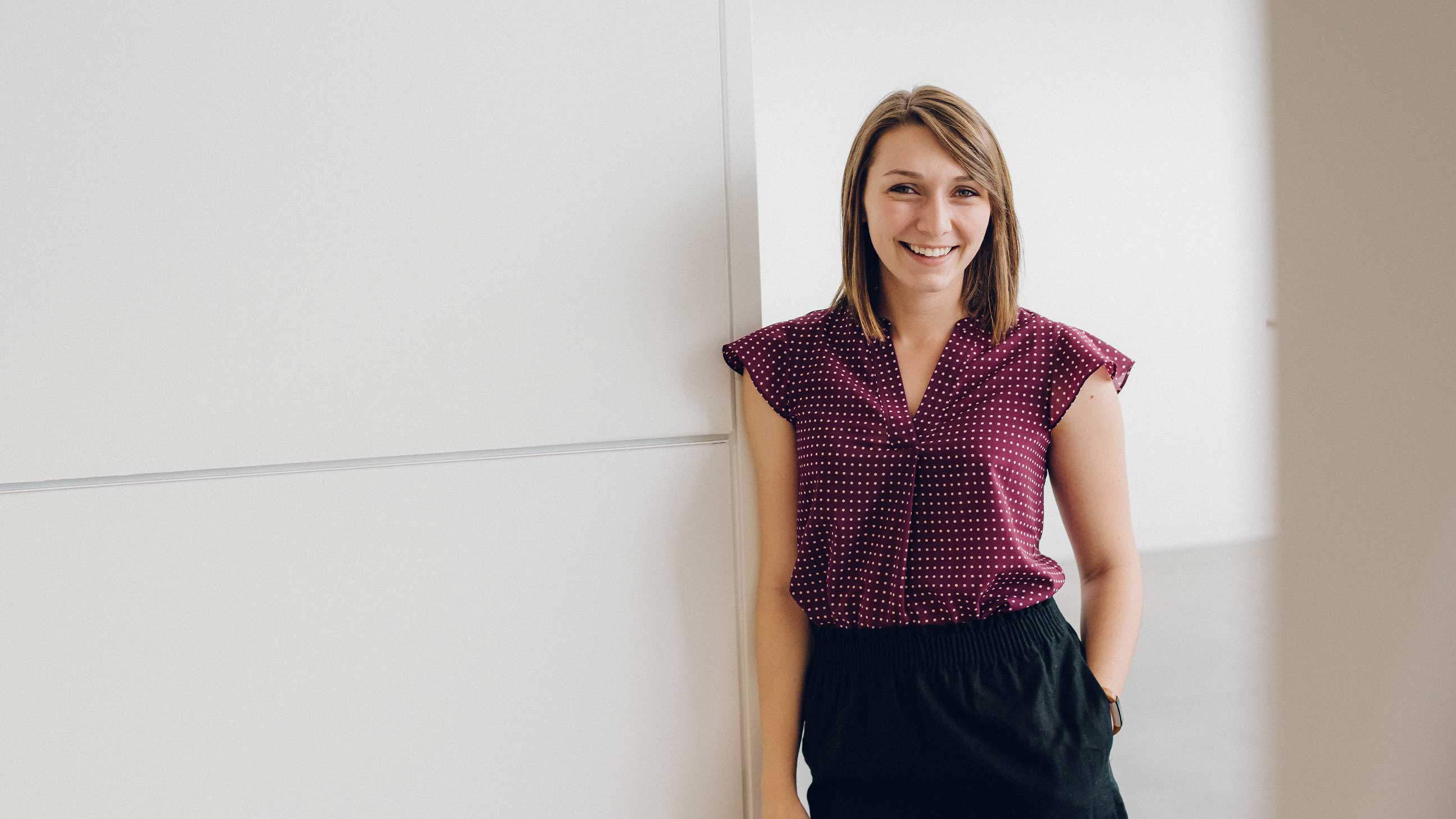 "Through my internship, through my time at Iowa, and now, through my job, I've learned that analytics can make an impact on somebody else's well-being."