Jaison Marks added a finance master's to his biomedical engineering degree when he saw a viable opportunity to commercialize technology developed in his research lab.
---
As a pre-med undergrad, Jaison was a part of a team that developed a bioactive hydrogel capable of preventing posttraumatic osteoarthritis (PTOA). When offered the chance to build a business around this breakthrough, he jumped at the opportunity—and pivoted to study finance alongside biomedical engineering.
"With my career seeming to head toward the intersection of science and business, I knew that having graduate level education in both Finance and Biomedical Engineering would set me up well for running a business in that space."
Here's how his Master's in Finance will help Jaison prepare for a future running his medical technology start-up, CartilaGen.
Shifting focus to finance
When choosing a finance program, Jaison didn't look anywhere but Tippie. The department's reputation spoke for itself, and he liked that he could jump right in without previous work experience.
"Because of my quantitative background I was already familiar with the core concepts, but the applications to finance are completely unique. I already had the foundational skillset, so I learned new theory to apply them to different business situations."
In Professor Amrita Nain's Managerial Finance course, he built a financial valuation model for Boeing. The project gave him the chance to discover how a company should be valued—knowledge that's relevant to raising capital for his own venture.
"One of the reasons I was specifically interested in the Master of Finance program was because I want to know what investors look for, since I expect to take in outside investments for my company in the future."
Competitive edge
Jaison knew he'd need to pitch his new business to potential investors, so he entered multiple pitch contests. These included the Pappajohn Iowa Entrepreneurial Venture Competition and the Iowa Innovation Challenge. As part of his contest entries, he created an executive summary, business plan, and pitch deck to present his ideas to a panel of experts.
"Founders of medical technology startups are often those with a strong science background. However, in order to be successful this field, technical expertise needs to be coupled with business skills to really move innovations forward," he says. "This program has given me a greater exposure to business and helped me become more articulate in the field."
His work has paid off. He was awarded second prize in the 2019 Pappajohn Iowa Entrepreneurial Venture Competition, first prize in the 2019 & 2020 Iowa Innovation Challenge, and 2020 UI Graduate Startup of the Year. He also successfully led CartilaGen to an initial external investment from Wellmark Blue Cross Blue Shield.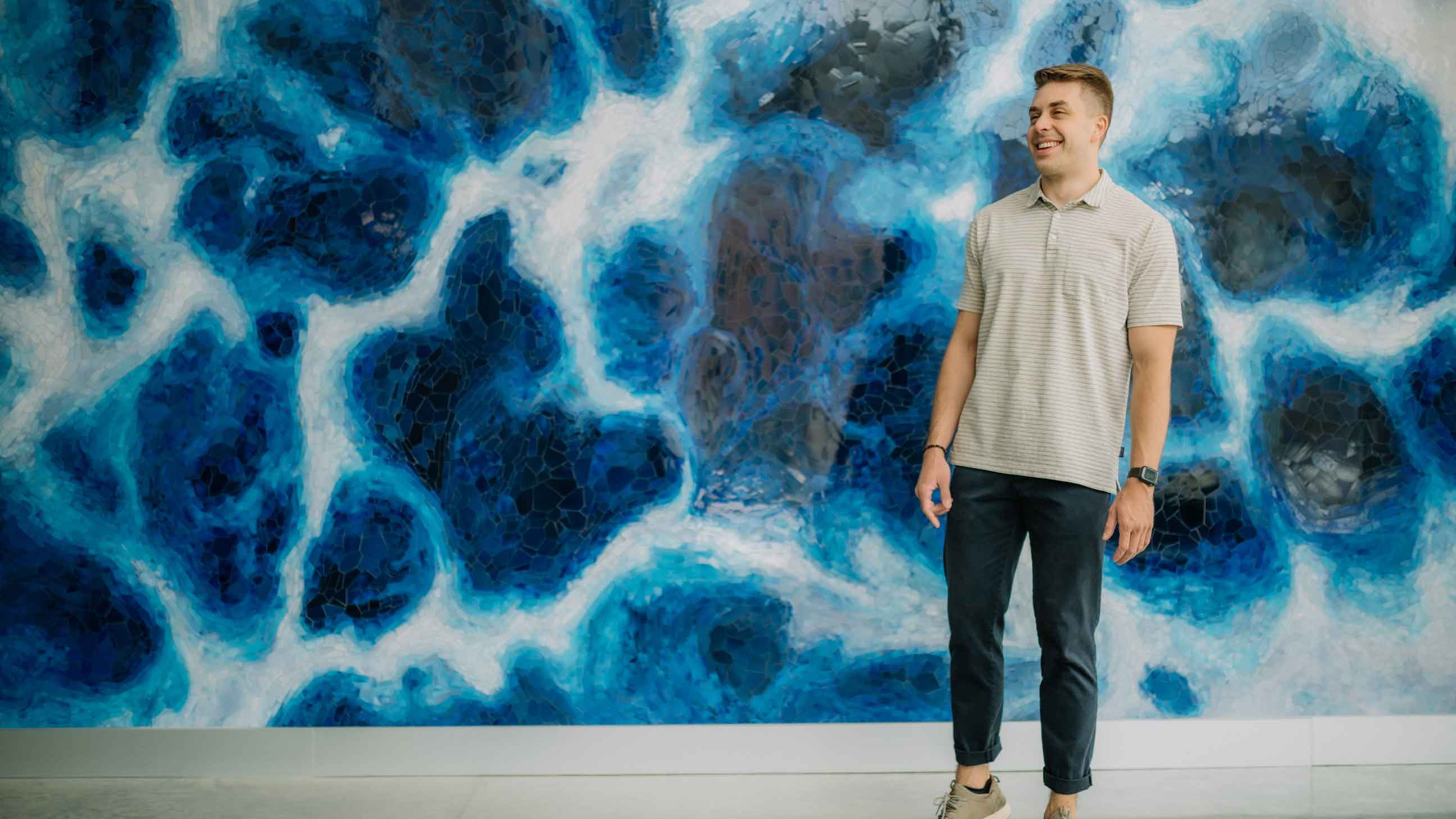 "The program allows someone who doesn't have a formal business background to get quick, strong exposure to finance principles and applications."
What's next
Jaison is hopeful that upcoming clinical trials will prove the safety and efficacy of the treatment, a step toward eliminating the leading cause of medical discharge for active duty wounded warriors in the U.S. military. But if this venture doesn't pan out, he's already got a plan for what's next.
"I'd like to think that even if this venture isn't successful, I can do it again. Once I graduate, I'll have multiple graduate degrees and very strong medical technology commercialization experience for someone my age, objectively speaking," he says.