Jennifer Smith always knew she'd get her MBA. The question was just how she'd squeeze it into her schedule.
---
Balance life with graduate studies at Tippie.
To be certain that she could make a part-time MBA work with her full-time job as a financial accountant and still have the flexibility to coach volleyball, Jennifer tried the Iowa MBA on for size.
Four years and an MBA later, she's switched companies and roles, upping her game as a senior financial analyst with Athene USA.
She shares how the relationships she formed with her classmates and professors have given her the diverse insight to be a better team player.
How did you customize your MBA?
I've taken a lot of leadership-style classes. It's something I've always been interested in. The program I went into right out of college was a leadership development program. I've geared my MBA program towards that.
I've been able to meet a lot of great people and hear about their experiences throughout the program. That's the nice thing about the Iowa MBA. You're studying with people who are out in the working world—at John Deere, Procter and Gamble, financial services and insurance businesses, retail, and IT.
And what value do classmates who work full time add?
I worked with some people who decided to go back to a full-time MBA program, but that never was an option for me. You get so much more out of a program where people are leaving and going to work the next day because they can apply the learning directly, right away.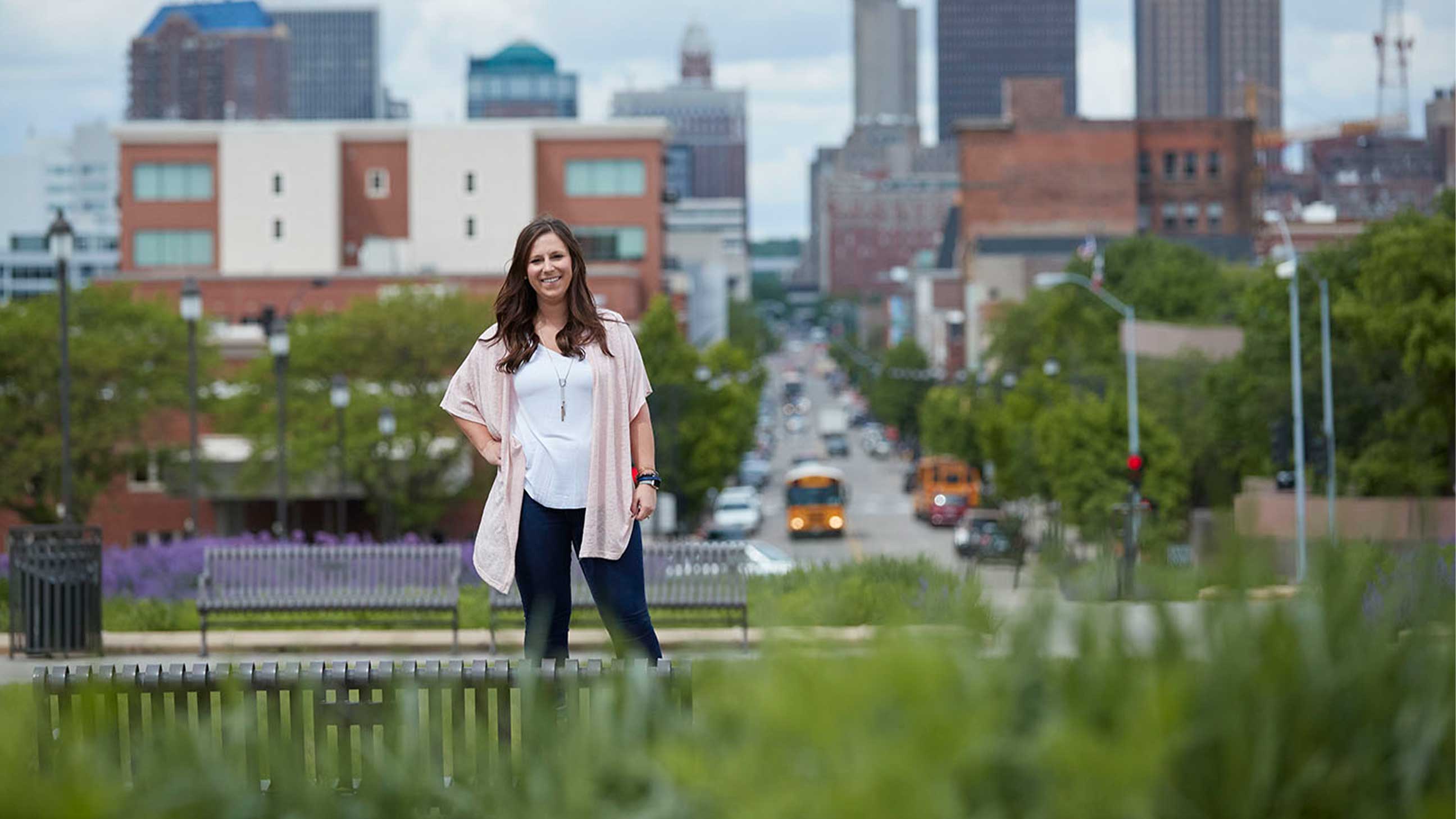 "The people that you meet throughout this program really make the experience. You're studying with people who are out in the working world—at John Deere, Procter and Gamble, financial services and insurance businesses, retail and IT. They can give you more real-time personal experience."
Is it hard managing work and class with your other commitments?
I've only taken one class a semester. My employer pays for the majority of my MBA experience, so I've done it a little slower pace than some.
I tend to take the summers off. That's my time to recharge and go on vacation with my family. I also coach youth volleyball. I've been able to take classes, coach youth volleyball, and work full time. And I still have time to work out on my own. There's been a lot of flexibility as far as being able to manage my coursework with my job—and with the other things that I choose to be involved in.
What has been your favorite class?
Maximizing Team Performance. It's a class where you learn about the functionality of how teams work together and building that trust within the team. I'm the type of person who is very team-oriented. I loved every minute of it. We talked about things like the importance of building trust, how teams function, the dysfunctions that go along with teams, and how certain things within a team dynamic can hinder the team or push the team forward.
The classes that are more of the "soft skills" as far as leadership and management have been the most valuable classes. I'm in a "hard skills" job, so I've chosen to do more of the "soft skills" because you can leave class that night and go to work the next day and apply it. Those classes are more conversational, where you hear more about other people's experiences and are able to utilize that in your everyday workday.
What did you think of your online courses?
I tend to prefer the online classes. Having the ability to take the class from my house allows me to be at home when class is done, spend a little time with my husband, and do some things around the house. It really adds an element of flexibility that you don't get with the in-person classes.
Online courses that challenge how we collaborate when we're not in the same space is a great thing to put in an MBA program because it's only continuing to be more and more applicable to the workplace.  
What's next?
I want to enjoy coming to work every day. Having an MBA keeps those doors open. I can go into the next job and say this is just another accolade that I can add to my resume that will help me keep the doors open to those great opportunities.
"Being able to do this and work full-time is a great accomplishment—and do other things on top of that. I've been involved in the community. I've gotten married. There's been a lot of change in my life as I went through this program."