By joining the Korean Business Association at Tippie, Jisoo Lee found her true calling in data analytics.
---
Find a path to your future career
While teaming up for a marketing competition with the Korean Business Association, Jisoo Lee discovered she had a knack for interpreting data in creative ways and tapped into her real passion.
After she changed her major to business analytics, she landed a marketing research internship in South Korea and worked on a consulting project with Ruffalo Noel Levitz, helping its client increase fundraising results based on its donor prospect data.
Explore what makes you unique
Originally from South Korea, Jisoo was sure about attending the University of Iowa, though not quite sure what she'd study. The school, and the city, had a strong reputation all the way back in her hometown.
"Before I came to Iowa, I talked with the other international students here. They all said it was a great place to study—and that Iowa City was the perfect college town," Jisoo said.
But upon arriving, she found herself bouncing from one major to the next. Before jumping into business, she wanted to first get a feel for Tippie, so she joined the Korean Business Association first. She attended a marketing competition with a team from the organization and started to notice that she looked at data very differently from her teammates.
"I found it very natural for me to collect massive quantities of numbers, to analyze trends, and then based on those trends, to decide what's next," Jisoo said.
It was a pivotal moment for her in declaring business analytics and information systems as her major.
"I thought it was a perfect fit for me. And right away, the classes were very interesting. I learned how to really explore data, and visualize a data set—things that I could tell were useful, practical, and that I'd use on the job after graduation."
And thanks to Tippie's connection to real-world experiences, she's already gotten a chance to take her skills beyond the classroom.
Embrace challenges that push you
Like all business analytics students, Jisoo gained hands-on experience through a capstone project. Tippie matched her with higher ed consultant Ruffalo Noel Levitz, whose nonprofit client needed help interpreting its donor data.
Jisoo and three teammates combed through a mountain of data sets: customer ages, graduation years, career profiles. They sifted through how many times each donor prospect had been called, how many callers tried to reach prospects, how often a prospect had donated, and how much money he or she had given.
Her team explored the data visually, distributed variables, and searched for errors or missing values—which took a lot of time to get right. Then they sifted through models upon models until they determined which one would match best with the data sets they'd built.
"It was a really challenging project," Jisoo said, "but it was so nice to know that the resources—and the solutions to the problems—were out there."
Help came from outside the team, too. "We got a lot of help from the teaching assistants and professors—who were really willing to give us direction," Jisoo said. "The professors at Tippie—you can just feel their passion. They always encourage students to explore different topics in-depth, are willing to give more examples for better understanding, and are ready to support students not only in academics but also in their careers."
In the end, the project was a big success. And her team got great feedback from its client.
"We could tell they were impressed," Jisoo said. "But more importantly, we knew that some of the findings we came to would be key as they developed their strategy."
But the project wasn't just a success professionally. It also deepened her relationships at Tippie.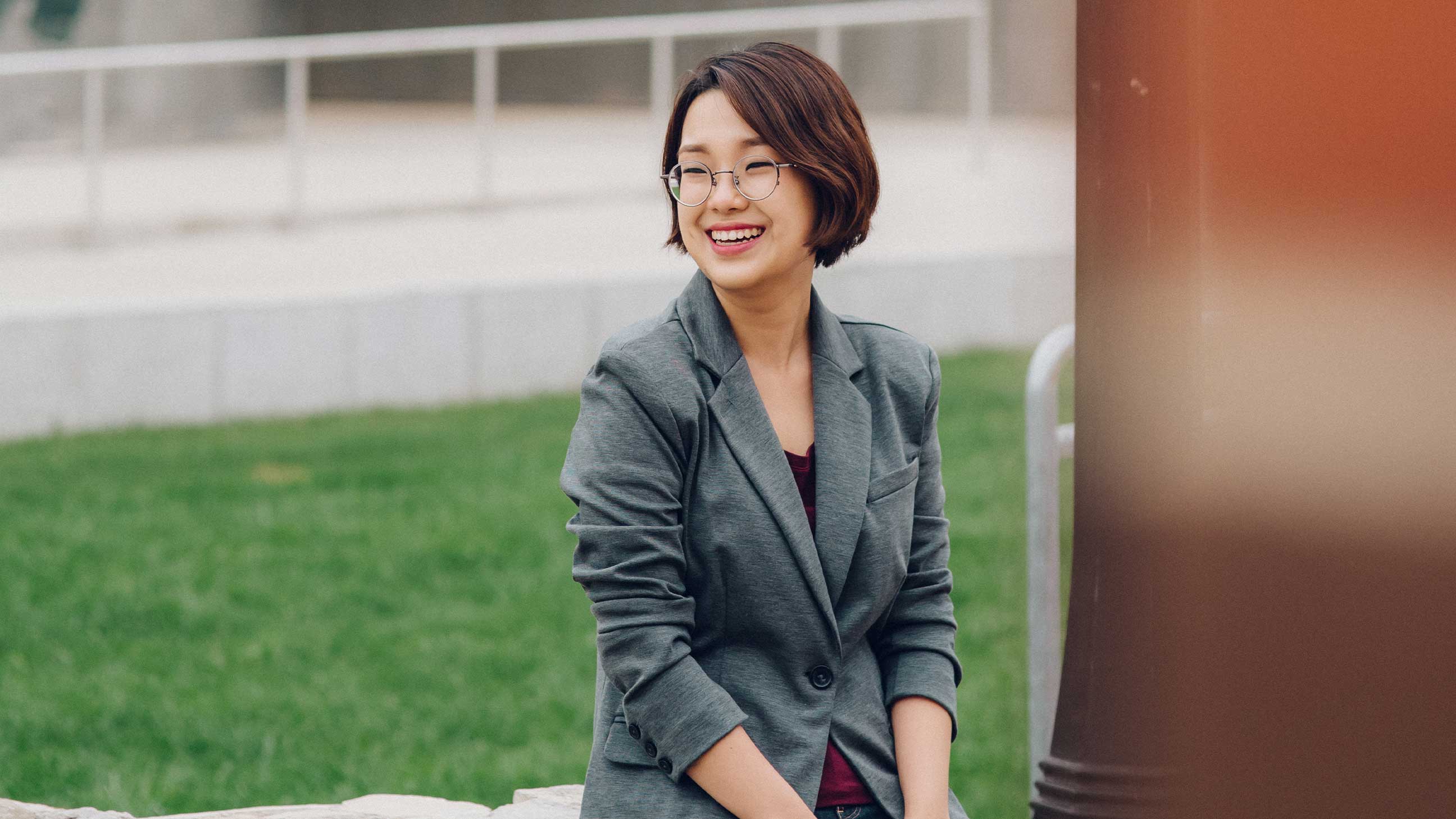 "I didn't expect it, but one of the biggest benefits of that project was getting to know new classmates. It was a great chance to work closely with other students who were interested in the same things, and I ended up building some really great relationships."