Karl Kramer learned how to tell the stories behind the numbers—and drive real change for organizations.
---
Creative problem solving gives you the edge.
During his summer internship at Dish Network, Karl Kramer optimized its mailing lists process—saving the company $150,000. At Iowa, he partnered with a professor to design a multi-functional space for Tippie and the Iowa City community. And in his senior year, he helped a local company explore new ways to scale up.
"Tippie does a great job of pushing us to think outside the box and come up with creative solutions. Then it gives you opportunities to see why that matters in the real world."
That's exactly what happened at Dish Network. While interning there as a business operations analyst, Karl was assigned what seemed like an old-fashioned task in the digital age. He was asked to reduce the company's wasteful stockpile of returned mail. Postage from returned mail was straining the budget, so Karl looked at the data, calculated costs, and found the fallout in the system.
"I could see when we had already sent a letter to a particular mailing address—and when it was returned. And I could track that extra letter against the data, and make sure no more mail was sent that way again."
It saved the company $150,000. Following graduation, Dish Network brought him on full-time.
When he started his new job in business partnership outreach, he asked his interviewer what was the deciding factor for hiring him. "It came down to one thing I said in my interview: 'I think data tells a story, and it's my job to interpret that story—in a way that's to my and the company's advantage.'"
Take what you know and build something
Learn emerging skills, apply them creatively, and watch where they take you. These basic steps were the cornerstone of Karl's success at Tippie.
"Blending real world experience with the classroom is important," he said, "and that's what the Tippie Analytics Cooperative sets you up to do—especially senior year with the capstone project."
Through the Tippie Analytics Cooperative—an entity inside the college that places students in data-based consulting projects with business partners—Karl and his teammates worked with startup business College Raptor. They set out to improve the business, and create a competing version to its existing predictive model.
"We were given huge Excel spreadsheets, sat in on biweekly meetings with clients, and were told, 'Build something with this,'" he said. "It took a lot of intuition, a lot of time speaking with professors, and using the analytical skills we'd developed throughout our courses."
The experience required skills beyond those in analytics—and beyond what he could've learned in a classroom.
"We had to be very adaptable," Karl said. "When we were going the wrong direction, the client would steer us a different way. And that's applicable to what I'll be doing in my career—working with people, as well as numbers."
Whatever you build, build for change
Aside from his work with the Analytics Cooperative, Karl worked closely with his professor to create The Space, a community-based configurable classroom that can quickly change from a traditional classroom setup to yoga studio or a number of other creative environments.
Most impressively, The Space was financially sustainable all on its own. Entrepreneurship bred more entrepreneurship, and the students who used it found ways to raise funds to support its other configurations.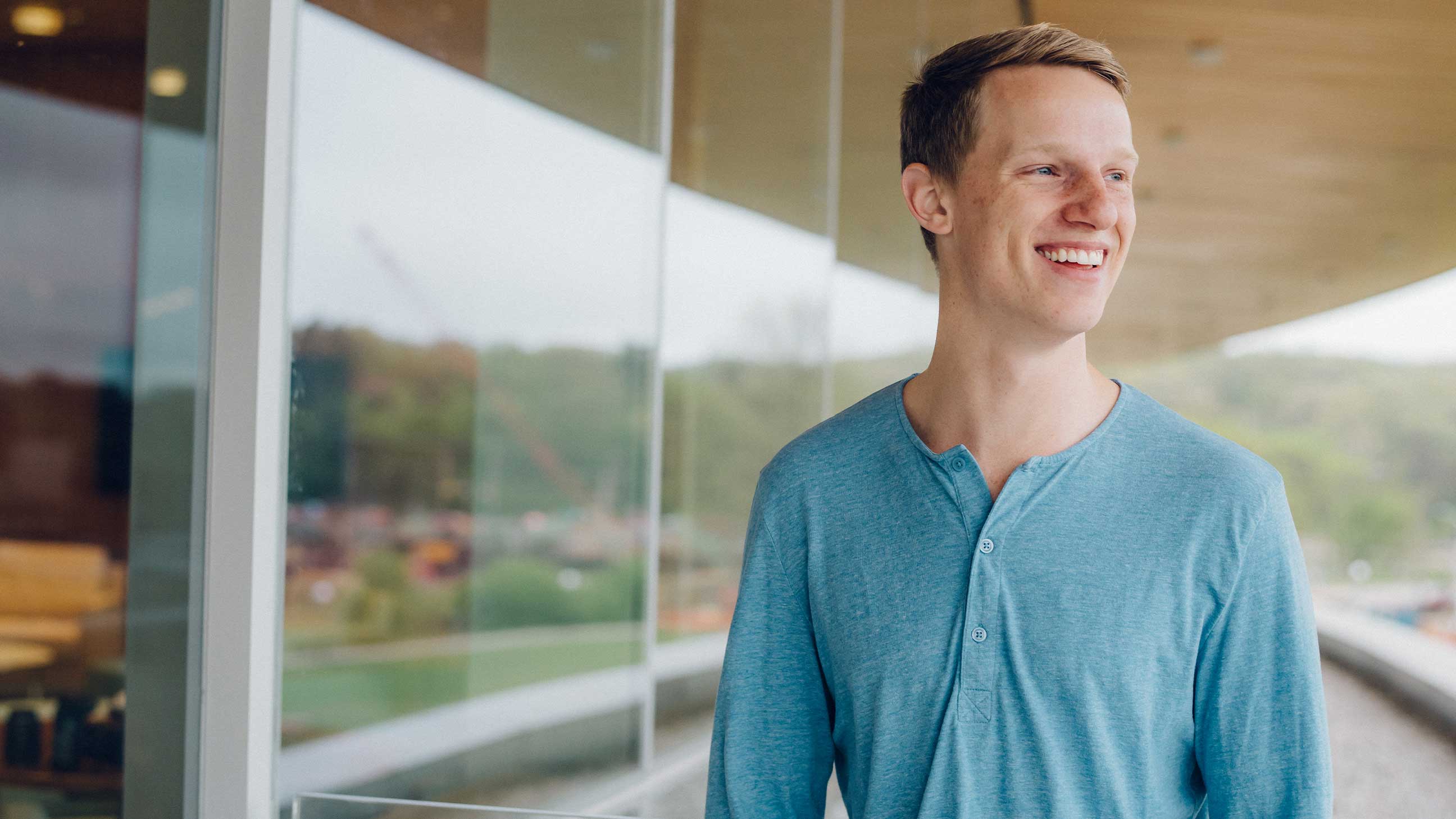 "That's just how Tippie works. There are so many opportunities there. You're not just learning one thing. You're learning different skills all the time."
That adaptability, and the chance to learn those different skills, can make all the difference.
"I think back to why I got hired on to my internship—which eventually, is how I got my job," he said. "The HR rep told me that I gave a 'creative answer.' And that's something that came from my time at Tippie—and interacting with people, and projects, that pushed me to think outside the box."