Leah Feldmann wanted to attend a college that matched her ambitions. She found that at Tippie.
---
Small-campus connections, Big Ten opportunities
They say it's all about who you know—and Leah Feldmann knows everyone.
"It's a big school, but it feels small. Once you get involved, you just meet more and more people. You walk around campus, and you just start to 'know' who's around. It feels like home."
But as the school started to feel smaller, her opportunities grew bigger. Even before graduation, she landed an internship with a Fortune 500 company, was elected vice president of a prestigious business fraternity, and formed the connections she needs to exceed in a challenging field.
Half the way to excelling is deciding
From her very first campus visit, Leah fell in love with the Tippie College of Business.
"It's one of the best business schools in the Midwest. And it's the only one in the state with the direct admit program to the business school. It felt more prestigious, to enter Iowa, and already be a part of Tippie."
While deciding on Tippie was easy, deciding what to study was harder.
"I always knew I wanted to do finance," she says, "but I thought I'd focus on finance and accounting. That is, until I took an accounting course…"
At the end of first semester, Leah met with her advisor, and found out how to pivot. That's when she heard about the Vaughan Institute, and risk management.
"He connected me with the head of risk management—and she talked to me about the work, about the insurance industry. The job growth is huge, and they're constantly looking for new grads—and the lifestyle, the work culture. It all just seemed perfect for me."
Find what you love and dive right in.
Once she had decided on a career, she jumped right into it. She heard about Gamma Iota Sigma, the risk management and insurance fraternity, and decided to get involved.
Even before the semester started, they put on a golf event. "It's such a great opportunity for risk management students," she says. "We get placed on a hole at the course, some pretty important people play a round of golf, and we get to talk with them."
Every Monday, Gamma Iota Sigma meets—to prepare for a career fair, or hear from a guest speaker. They have social events. They volunteer. Most importantly: they network. When "who you know" matters, so does your school's alumni involvement.
"There's a young alumni board just for risk management students. They're just so helpful—for professional advice, academic advice. We'll have networking luncheons with them, and every time I attend, I leave with a new contact," she says.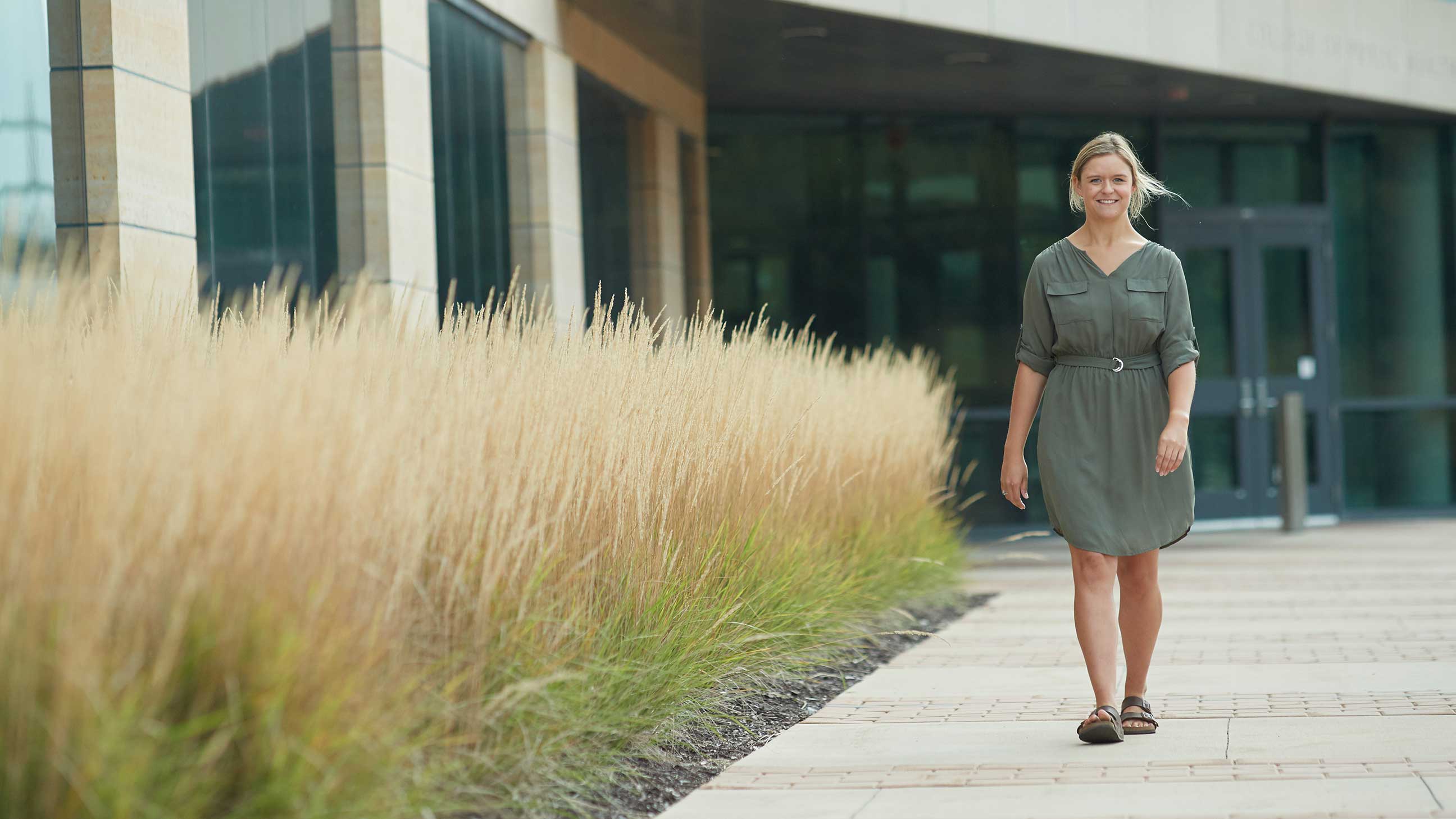 "In general, Tippie alumni are just so passionate about helping out students—they give up so much of their time, just because they care about the school. I don't think other schools have networks like that."
Manage risks, but take them also.
So Leah dove into risk management, prepped for job fairs with Gamma Iota Sigma, and had set the stage for a high profile internship.
"I first talked to Geico at a career fair," she says, "They have an internship in Coralville, and, at that point, I didn't know they only took juniors. I was a sophomore." She applied anyway.
"I did a lot of prep. I went to the career center. I did a mock interview. They gave me a whole career guidebook. I sat down and wrote responses for every example interview question. Then I practiced them."
"I was pushing hard," she says, "and exhausting all my resources. I knew it was a long shot, but it was the only option I had left for the summer."
"It was so exciting when they called me back, and said that I got it."
It's who you meet, and what you do.
At Geico, Leah got hands-on experience in the insurance industry, and she confirmed she was chasing a career she'd love.
"Some business jobs are more isolated," she says, "but I learned that in insurance, you work with a lot of different people, every day. And you have a different day, every day. The people you work with become your friends outside of work."
While the job was personally fulfilling, it was also an important professional opportunity.
"We worked on one project nearly all summer, and then we presented our findings. Tippie's dean was there, the dean from Iowa State's college of business came. There were executives from Geico's corporate office in DC who flew in and heard our presentation. It was a big deal."
After the internship, Leah came back to Iowa energized. She's no longer nervous about interviews. She's taken on a new internship with Northwestern Mutual. And she was appointed vice president of Gamma Iota Sigma—which will open up even more doors.
"I'll be reaching out to employers and getting speakers for our meetings. I'll be organizing networking events. Everyone tells me, as vice president in this organization, you form so many new connections. In the end, it's what makes you stand out."