After leading a student organization and landing two finance internships, Liz Perez earned a spot in GE Capital's Commercial Leadership Program.
---
Pivot from math genius to Fortune 500 credit analyst
Liz Perez's experiences at Tippie—leading a student org, diving deep in financial management courses, and two internships—were key to her earning a spot in GE Capital's Commercial Leadership Program as a credit analyst.
Find out how Tippie helped Liz break out of her comfort zone and lead her down the career path she wanted.
#1: Discover who you want to be
Solving complicated math problems in high school was a no-brainer for Liz. She loved math but didn't know how to make it her career. After taking Intro to Financial Management and Wealth Management at Tippie, she knew exactly what she wanted to do.
"Those two courses teach you the basics—whether it's managing a portfolio or health benefits—and everyone, no matter what major, could benefit from them. Our group projects prepared us for the real world. You learn how to work with many different personalities in the workplace and how to get past any differences to reach a common goal."
#2: Find your groove on campus
When Liz joined Women in Business her sophomore year, everything changed. After two semesters as a member, she took on leadership roles, first as VP of fundraising, then VP of professionalism and VP of external relations. She planned a professional business trip to Kansas City and set up meetings with leaders at UMB Financial, Global Prairie, Hallmark, and Cerner.
"From organizational skills to communication skills, holding a leadership role helped me develop a lot of skills that I use now. If you really want to have an impact, you can at Tippie."
#3: Get to know the workplace
Liz was hired on the spot during her interview for a financial analyst internship at Bankers Trust. For the first time, she was exposed to valuable office standards that she has carried with her, like using proper email etiquette, working on projects outside her role, collaborating with senior leaders, and interacting with different personalities and roles.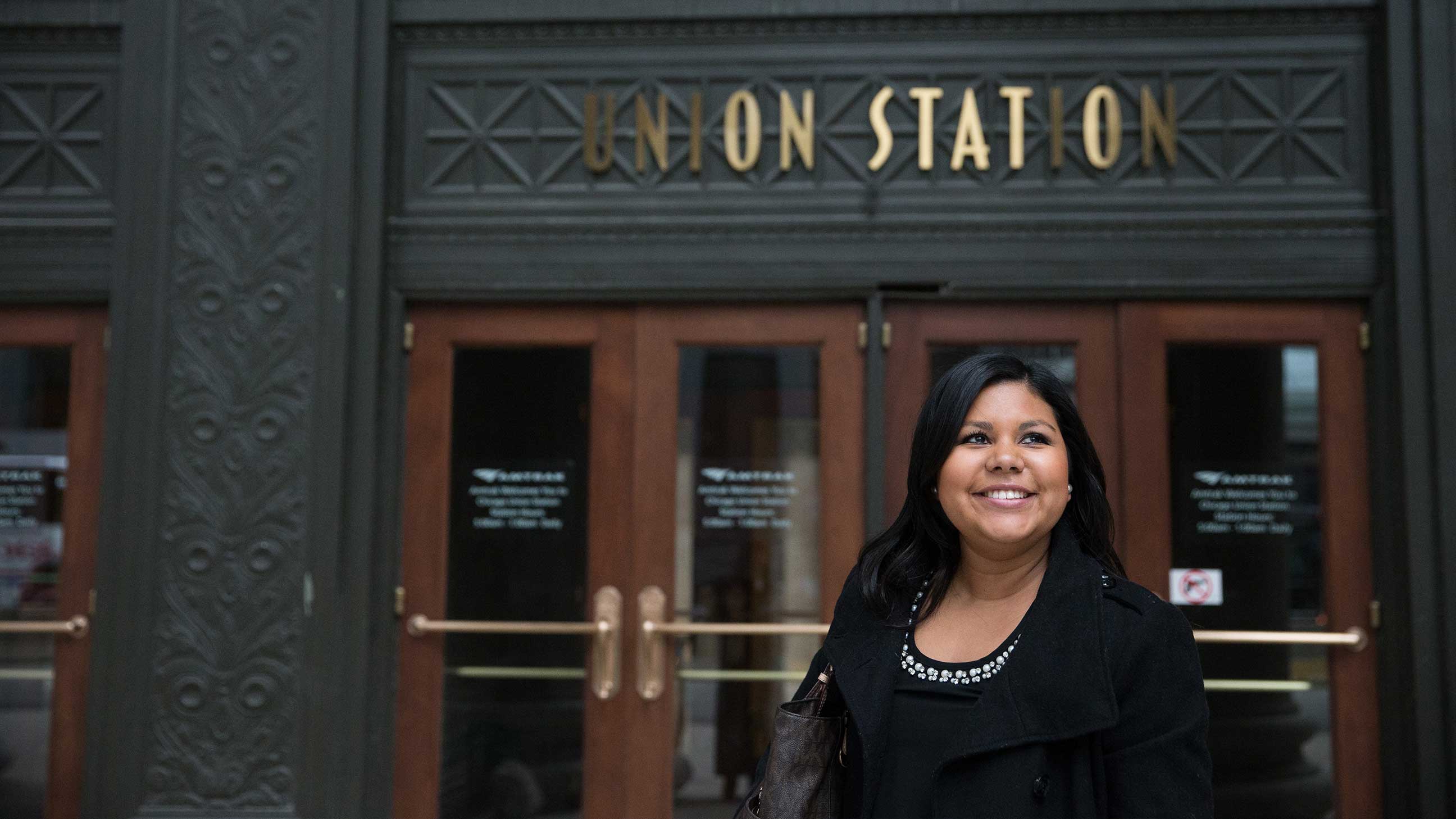 "Overall, it was a way to prepare for the real world. At the beginning of that internship, I had no idea what I was doing, but toward the end, I could go into any company's 10K and know exactly where each piece of information lived."
She interacted daily with senior leaders, analyzed budgets from month-to-month, and completed the daily general ledger for three entities. She managed a municipal bond portfolio that, by the end of the summer, her boss could review to decide which bonds to keep or sell.
#4: Position yourself for leadership
After graduation, she was selected for GE Capital's Commercial Leadership Program—a two-year rotational program to accelerate early career talent. The program builds skills in sales strategy, risk management, commercial operations, and leadership through special projects and leadership exposure.
As a credit analyst for commercial distribution finance in Chicago, her day is spent underwriting outdoor product business deals under a million dollars, ranging from agricultural products to lawnmowers.
"My team reviews the business's performance and credit scores, and the backgrounds of the owners to mitigate potential risks," Liz says. "I recommend whether we approve or deny the deal."
Next stop: leadership rotation two.