After she joined Tippie's Vaughan Institute, Mackenzie Kennedy gained deep expertise in risk management and insurance, landed an internship, and aced her insurance license exams. 
---
Find your place to shine.
The Vaughan Institute made everything fall into place for Mackenzie Kennedy.
She dove deep in risk management and insurance (RMI), landed an internship at Bankers Life, and aced her insurance license exams—all putting her miles ahead of her competition.
The Vaughan Institute's certificate in RMI, industry mentor program, and in-depth courses are known for opening doors to great careers in the insurance industry.
"The Vaughan Institute quickly became my home within the college of business," Mackenzie said. "Tippie is a big school, so my biggest challenge was finding my place here. For that, the Vaughan Institute was the best thing I could've done."
Seek out experiences that make big feel small
"I've always known that I wanted to go into business, and I'm kind of a huge numbers nerd," Mackenzie said. "So my adviser recommended I look into risk management."
The first class she took, Principles of Risk Management and Insurance, quickly became her favorite course at Iowa. That's when she decided to pursue the Risk Management and Insurance certificate through the Vaughan Institute. The decision became fundamental to her experience at Tippie.
Joining Vaughan meant joining a community. It connected her with Gamma Iota Sigma, the risk management fraternity. It gave her an opportunity to network throughout the year with professionals working in the field. And it made a big school feel small.
"You can tell that Vaughan really does value each individual person. Faculty will reach out to you personally with opportunities that you might be interested in," Mackenzie said. "And after a while, you realize that Tippie is big, but it's not huge. You'll be interacting with this community, and going to classes with the same people, for your entire college experience."
Study now, get ahead later
But Vaughan didn't just immerse Mackenzie deeper into the business school. It also prepared her for the world outside of it.
To get ahead, Mackenzie took—and passed—her insurance license exams—a task for which her coursework at Iowa had prepared her well.
"It was funny, honestly, because I didn't study much," Mackenzie said. "Almost all the material, I'd already learned in my classes."
Her classes also gave her an edge when it came time for her summer internship. After her junior year, she took a sales internship at insurance company Bankers Life. Even in a role well outside of finance, she found herself applying what she learned in her courses.
"Constantly, at my internship, I feel miles ahead. When other interns are struggling, I find myself thinking: 'I get it, we learned about that, it makes sense.' Vaughan really gives you a complete picture of how the insurance industry works."
Invest in what matters
But if there's one word to describe the source of Mackenzie's success at Iowa, it's investment. She's invested in her skills as a leader—on campus and in the classroom.
As a sophomore, she was elected treasurer in her sorority. Throughout her time at Iowa, she was heavily involved in Dance Marathon, a fundraiser that supports youth cancer patients. She headed the family representative program, organizing six major events and playing a pivotal role in the university's largest student organization.
But much of her investment has been pushing herself in the classroom—a dedication that came naturally because of her professors.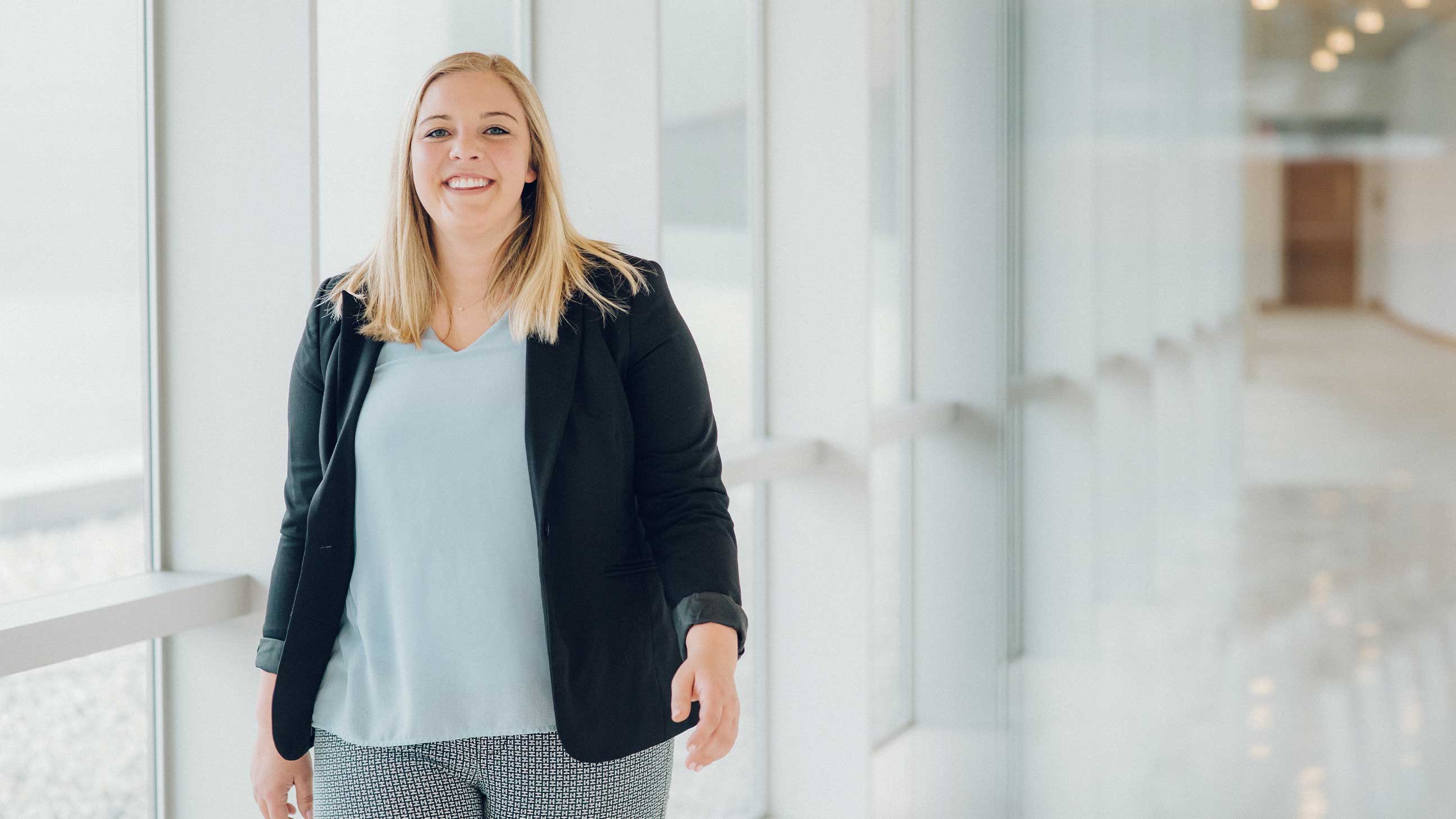 "You can just tell how passionate the professors are about teaching. It's obvious that they want their students to have a good experience, and if you ever need anything, they're happy to help you out."
Last year, Mackenzie was invited to join Beta Gamma Sigma, an honors fraternity for only the top 10 percent of students.
"That was exciting for me because I was working toward it for three years. All that hard work had finally paid off," Mackenzie said.
As she approaches senior year, Mackenzie looks forward to goals beyond the professional and academic sphere. Maybe just have some fun.
"It's my last year at Iowa," she said, "so one of my big priorities is to attend every football game. It might be the most important thing here that I haven't done yet!"