Sarah Thompson was tired of being passed over for promotions. Three years later, she has an Iowa MBA and the confidence to compete.
---
Pivot from passed over to promoted
When Sarah Thompson realized an MBA was vital to getting ahead at Transamerica Life Insurance in Cedar Rapids, she didn't let anything stop her—not working full time, not being a single mother to two teenagers. Three years and two promotions after starting her Iowa MBA, Sarah offers this advice about choosing the best program for your career, your family and yourself.
#1: Zero in on what matters most
Sarah felt understandably dismayed to be passed over for two promotions after a decade at Transamerica. But then she felt new resolve to get ready for her next opportunity by earning an MBA. She considered online programs but opted for in-person classes to give her the face-to-face interaction she wanted and the structure she needed in the whirl of her busy life.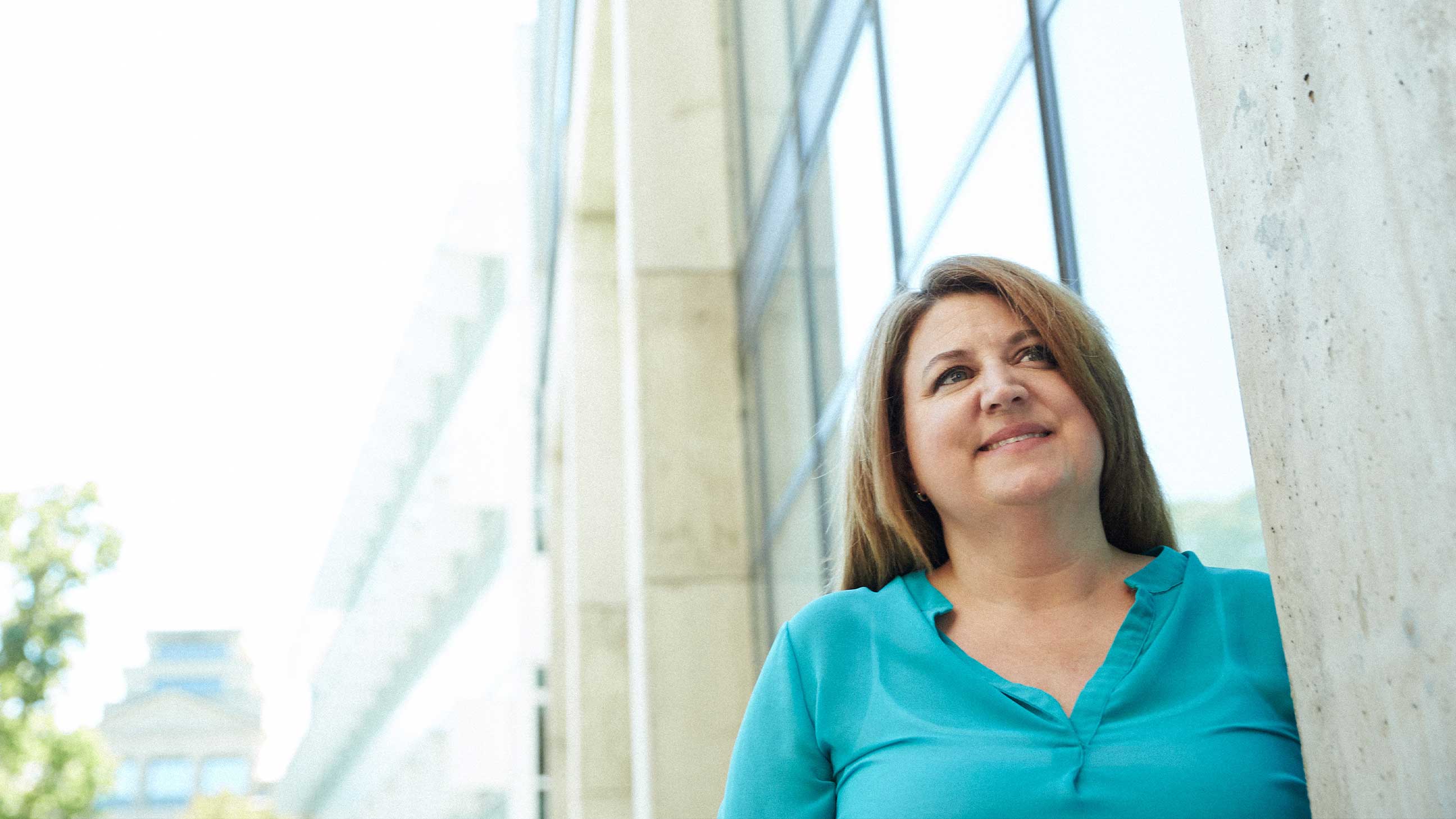 "If I was going to take time away from my family and job, I wanted my degree to mean something. Knowing that an Iowa MBA was #1 in the state, I chose it because of the prestige of the program. I didn't apply anywhere else."
#2: Realize that the right program makes going back to school easier
From the start, Sarah discovered that her Iowa professors weren't just engaged in teaching. They knew the demands of working full time. When she had business travel, they gave her assignments ahead of time so she could get everything done. Plus, her fellow students also juggled work and family. "That feeling that everyone is in the same boat created a community where we really helped each other out," she says.
#3: Seize opportunities to fast-forward your career
One of Sarah's pivotal moments came in a class she expected to be irrelevant: Corporate Financial Reporting. The course led her to examine Transamerica's own corporate report and grasp, for the first time, the company's financial strategy and how her team fit in. It was one of many cases in which she learned something new in class and applied the know-how on the job the very next day.
And when her Leadership and Personal Development class required a 360-degree review with her fellow staff and new boss, she discovered that she and the boss didn't always see eye to eye. After candid dialogue and helpful feedback, that boss has since promoted Sarah—twice.
#4: Consider what an MBA means to your family
When she decided to pursue her MBA, Sarah realized it would mean sacrificing time with her two teenagers. But it also meant becoming a stronger role model. "My daughter is in college now, and she doesn't say, 'It's too hard' because she's watched me do it," Sarah says. "It's been inspiring for my kids to see this. They're really proud of me."
Fortunately, staying in contact was never as hard as she feared. The kids could always text during breaks if they needed her. "And they knew how to let me know if there was something I absolutely had to do for them—they set a note on top of the coffee pot."
#5: Recognize the major difference your MBA makes in you
Sarah's boss and family weren't the only ones who could see how much she's learned. "I am dramatically different," Sarah says—more confident, more willing to ask hard questions, more ready to take risks.
"Getting your MBA is not as hard as you think, and it's way more important than you think. You're never going to believe you have the time or resources to get your MBA, but getting started is the important thing. Once you have that degree, people will know you've got what it takes."