On her journey to becoming a professor, Yasmine Nosair found a home away from home in Iowa's Master of Finance program.
---
Hard to beat for academic acceleration
As a high school student in Cairo, Egypt, Yasmine Nosair knew that if she wanted to live her dream of being a professor, she was going to need a master's degree.
"My university didn't have a specialized master's option, and I needed a Master of Science degree to pursue an academic career," she explains.
To take that next step, she explored her options in the United States, applied to the Fulbright U.S. Student Program, and upon acceptance was placed in Iowa's renowned finance program.
"Iowa's Master of Finance program had everything I was looking for: the right courses, experiential learning, and the option to do a thesis. What more could you ask for, really?"
From the big city to the Big Ten
Although she was comfortable navigating the largest city in Egypt, Yasmine felt drawn to the Big Ten vibe during her search. In fact, as part of her Fulbright application, she only selected schools in the Midwest.
"I'm really glad I was placed here because I ended up falling in love with Iowa City," she admits, "I like the quiet and the safety you feel walking the streets."
She also enjoyed the personalized attention she received in her program and the sense of community she found here.
"The University of Iowa is full of amazing professors who not only teach you what you need to know, but will help you in every way, even outside of class," she says, "I always felt so welcome, included, and supported here."
Once settled on campus, Yasmine dove right into her coursework, and developed an even deeper love of finance through her work on the Henry Fund.
Real world skill drills
Alongside eight other master's students, Yasmine took on the role of research analyst for the Henry Fund, Tippie's $20+ million student-run equity fund. She utilized the modeling and research skills she'd already picked up in the program to create valuations for select companies included in the fund and make recommendations based on her findings.
By analyzing a company's management and growth potential, Yasmine was able to determine if the market was overvaluing or undervaluing the organization.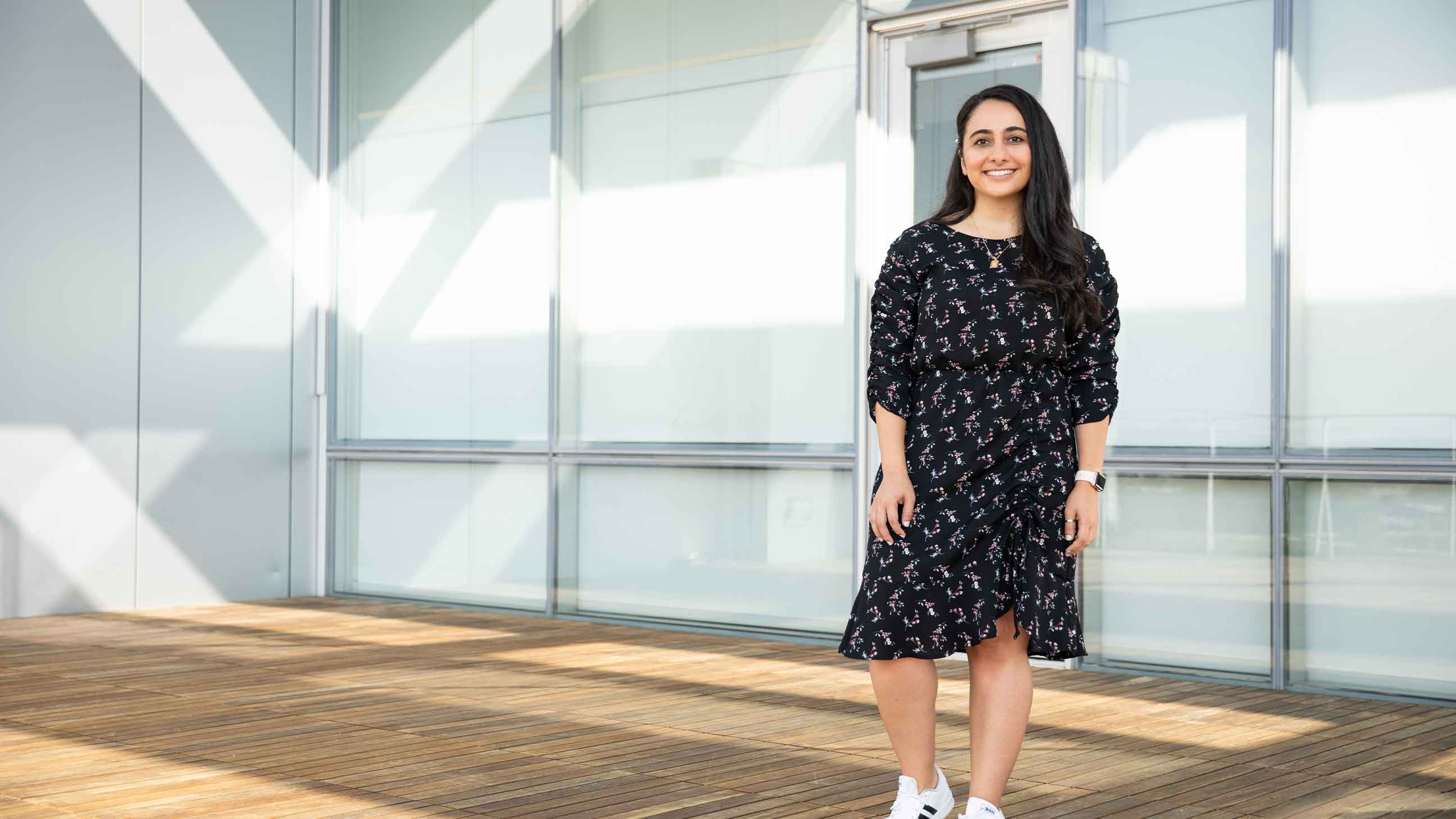 "To understand a company from a financial perspective, you need to understand its products, its management, why the numbers balance and what it means. The most important thing I learned working on the Henry Fund is that you need to understand a company's story, because the story is going to help you forecast how it will grow in the future."
Once her models were complete, she created a summary report of her findings, along with a recommendation to buy, sell, or hold—all of which she presented to the class.
"It's a lot of work, and can be stressful, but through my work on the fund, when I started my summer internship, I already knew most of what I needed to know for the role," she says.
Continued success
Through tackling both a thesis and internship at the State of Wisconsin Investment Board during her time in the program, Yasmine has set herself up for a bright future in academia. Back home in Egypt, she's already been promoted to a full-time teaching assistant at the University of Cairo—and is on her way to earning an Assistant Lecturer title.
So, what's up next for Yasmine?
"I hope to be back in Iowa City in the next five years, finishing my PhD at the University of Iowa," she laughs. "I've already started my application!"