An MBA. It's just a degree, a piece of paper, time spent in the classroom, right?
Hardly.
For companies seeking new hires, an MBA means an employee who's ready to hit the ground running. Candidates with MBAs take less time to train, bring more expertise to the table, and ultimately, drive higher profits. Why is an MBA valuable to a company, and how does an MBA give you a leg up on the competition in your job market? Let's dive into some reasons.
 
---
Do employers value an MBA? 
Yes. And employers who don't, should.
According to QS TopMBA,1 there are at least 10 reasons why a company should appreciate the holder of an MBA, including:
Better communication and team-building skills
Easier mastery of new skills and techniques
Faster to train, providing a quicker return on investment
Bringing new information from school to the workplace
Having a holistic "bigger picture" view of management and business
What does an MBA teach you?
In short, the degree returns the skills recruiters are looking for and the skills an employee needs to succeed in business. But what specific skills does an MBA give you?
According to MBA.com,2 the core curriculum of MBA courses typically includes the topics in this diagram: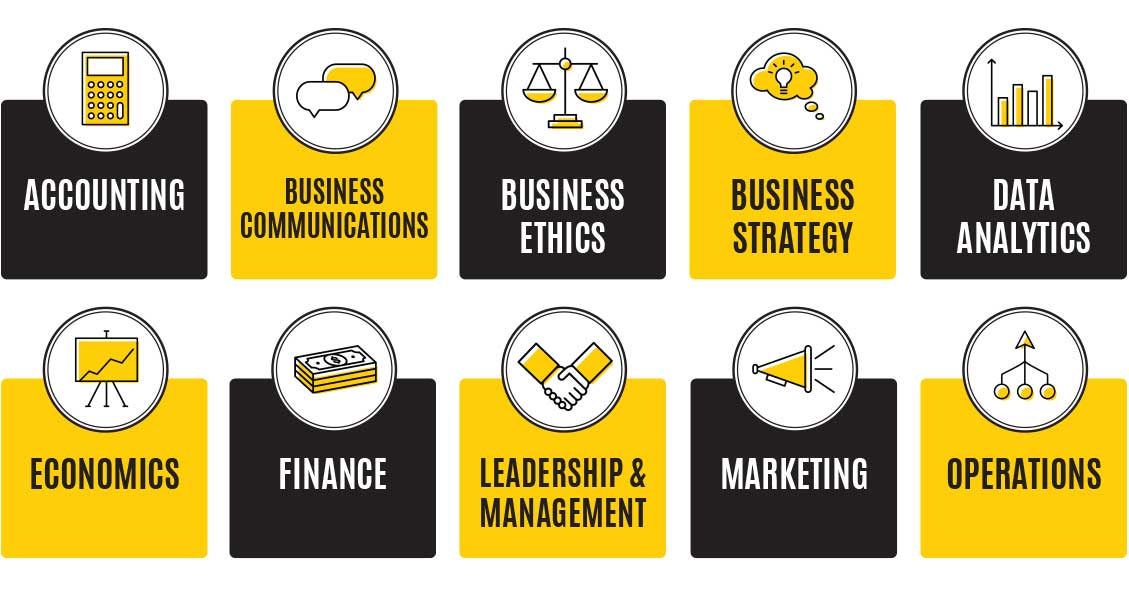 Combined, these elements take on the appearance of a corporation's departments. During an MBA education, you'll gain the skills needed to help lead a company, be it your own or someone else's. You'll gain the well-rounded expertise necessary to make their mark.
Additionally, there are elective courses and opportunities that help students work on leadership abilities and "crucial soft skills in a collaborative environment that fosters discussion among your classmates, advisors and instructors," according to MBA.com.
Take a second look at the list of bullet points above. Students who 'master' each are well on their way down the road of professional success.
Additional benefits of an MBA degree to a company include strategic thinking, skills adapted to the digital world, entrepreneurial spirit, problem solving, and networking. All marks of a leader.
According to the Graduate Management Admission Council (GMAC) Corporate Recruiters survey,3 92% of companies globally plan to hire MBA graduates. They're looking for skills purposefully developed during MBA studies.
Related articles
Benefits of an MBA degree to a company
But does MBA school really matter?
Absolutely–if you take full advantage of the educational opportunity. An article from the California Business Journal4 outlines eight additional benefits that don't just make students better at business, but have the ability to make them better, more well-rounded people: 
A broader worldview
Higher pay
Boosted confidence
Improved network
Nurtured self-discipline
Enhanced knowledge
Added credibility
Improved communication skills
One key benefit to highlight is "higher pay." The journal noted that some businesses reward newly hired MBA-holding employees with signing bonuses as high as $30,000, which is especially beneficial for recent grads who have to start paying down debt.
Location, location, location. Do employers care where you get your degree?
They do. Leading employers recruit from top MBA programs. Attending a top-tier school can give graduates advantages in terms of reputation, networking opportunities, and access to resources.
That said, maybe a top program isn't a goal for everyone. A local school that isn't ranked with the best can still provide valuable learning. It's important to keep in mind that different schools have different strengths and focuses. For example, the Iowa MBA is ranked #28 for part-time programs and costs a fraction of most top-ranked schools.
Finding your perfect fit is often a combination of the right location, the right price, and the right reputation.
Back to the people who hire…do employers really care about an MBA?
They must. According to another survey5 conducted by GMAC, 54% of employers said business school graduates tend to have a fast-track to upper-level positions, and 68% said leaders in the organizations typically have a graduate business degree. Recruiters are looking for graduates who can have an immediate impact and who are looking to directly influence business success.
Additionally, 70% of employers say that, within their organizations, those people with a graduate business school education tend to earn more than others.
Also according to GMAC,6 over the lifetime of MBA graduates, these grads can expect to earn $3 million more than someone with just a bachelor's degree. Yes, $3 million!
How do businesses justify that expense? How does an MBA benefit a company to the tune of millions of dollars more in salary payouts?
It's worth noting that companies don't have to hire someone with an MBA. Hiring managers have options.
First, they can hire someone green, with no experience and no knowledge. An employee who needs to be trained, taught the ropes, and brought up to speed. Of course, that takes time. And with the speed of business today, time is most definitely money, and money can't be wasted.
A second option, of course, is to hire a candidate with an MBA. A person who already has skills and knows techniques. A person not just versed, but well-versed in accounting, business ethics and strategy, data analytics, economics, finance, and more. A person who can think strategically from day one. A person who understands critical analysis. A person who has interpersonal skills, who doesn't need to be trained in basic or even advanced skills. Most of all, a person who is ready to make a move and have an impact.
Is an MBA worth it financially?
Let's talk about your dollars and cents (or maybe sense).
The decision is not easy. There are many options to weigh. Where you are in your career. How old you are. Does the long-term benefit outweigh the short- (or long-) term cost?
Again, according to GMAC,7 employers planned to offer a median base salary of $125,000 for new MBA hires in 2021.
According to the Bureau of Labor Statistics,8 the outlook for management positions is expected to grow by about 11% by 2030. An MBA could put you on the fast track to a promotion, to becoming a leader in your profession.
These are positives that are hard to ignore.
Some employers provide compensation or additional support to those who want to pursue an MBA while continuing to work full-time. We've put together a handy guide to help you start a conversation with your boss when you're ready.
Why are MBAs so valued?
Better yet, are they valued?
The proof can often be found in the paycheck. According to the National Association of Colleges and Employers,9 the average salary for MBA graduates (class of 2020) is $20,000 a year more than those with an undergraduate business degree.
Why? Because employers expect graduates with an MBA to have the academic, interpersonal, and leadership skills needed to solve their business's problems and challenges.
What about an MBA for small business owners and entrepreneurs?
If you're a business owner looking for a leg up on your competition, or maybe you're an entrepreneur who simply wants to be better at what you do, does an MBA help you run your own business or move your ideas forward?
Yes, yes, and yes, according to an article in U.S. News and World Report.10 There are three great reasons why future and present entrepreneurs might want to pursue an MBA:
MBA programs are the best incubator for budding entrepreneurs—a safe place to test out the most creative, outrageous, and ambitious ideas without the pressure and fear of failure if those ideas don't work.
MBA programs offer the best environment to build a team—entrepreneurial success requires teamwork, strong business relationships, and a network of classmates who can provide introductions or advice.
They will teach students how to run and grow a company—not just launch it.
Make no mistake, owning and running a business is hard. In the long run, however, an MBA might help it be a little less hard.
What about the benefits of an MBA in Finance?
According to Forbes Advisor, an MBA in Finance "can lead to diverse career opportunities and professional advancement in the financial sector" and can offer a diverse list of career options, including Finance Manager, Financial Analyst, Personal Finance Advisor, and Budget Analyst.11
If you're looking to make an impact in the world of finance, an MBA may be your ticket into that world.
Do I need to enroll now?
Maybe you don't think you need an MBA today, like right now.
But what about MBA benefits in the future? What about next year and the one (or ten) after that?
If you hope to get promoted down the road, or if you want to make a faster climb up the ladder, getting your MBA may not only be beneficial today, but could pay huge dividends in the future.
Can you afford to wait?
In the end, is an MBA worth it?
That depends. According to an article in the Harvard Business Review,12 if you're looking to "future-ready" your career, to explore new industries or functions, to accelerate your career path, and to expand and diversify your network, then yes, an MBA may be worth your time and money.
If on the other hand you're looking for a "magic pill, someone is willing to pay for it, or you're simply bored," you may want to examine your motivation and re-evaluate your options.
Also worth noting, in a working paper from the National Bureau of Economic Research,13 the value of an MBA is greater if the student majored in business as an undergraduate. Did you?
MBA advantages and disadvantages.
We have laid out the upsides of getting your MBA–the positives it provides to you AND your employer. But with the ups come the downs.
On the negative side, the cost of an MBA can soar into six figures and some positions don't require an MBA for future growth and promotion.
 Business school isn't for everyone. Before you take out student loans, consider the pros and cons of an MBA in Marketing according to masterclass.com:14
Opportunity cost: The most obvious reason not to get an MBA is that it can be very expensive. In addition to tuition, housing, supplies, and health insurance, committing to a full-time MBA program will probably mean you're not making any money while you're in school. You might decide that time and money would be better spent gaining hands-on experience or building your professional network on your own. 
 
Different goals: Real-world experience can sometimes be more valuable, especially for entrepreneurs, than learning the ins and outs of management. Make sure your MBA program actually fits your career goals.
In the end, businesses are looking to hire and advance employees with an MBA.
They are actively searching for people with the classroom experience who are ready to put into practice what they've learned—business hot shots who are going to make an impact in the corporate world.
Is that you? Are you ready to roll up your sleeves and walk into the classroom?
If you're craving more numbers…
Here are some statistics on the job market for MBA candidates–specifically, about jobs after an MBA in the USA and what kind of salary you might expect from your present or future employer.
According to an article from Coursera15 and information from GMAC, salaries earned by MBA degree-holders are generally much higher than salaries of people in comparable roles who don't have an MBA:
The median starting salary for MBA graduates at US companies in 2021 was projected to be $115,000. That's $40,000 higher than projections for direct-from-industry hires, and $50,000 higher than job candidates with a bachelor's degree.
Additionally, in 2019, TransparentCareer16 analyzed salary insights from MBA graduates between 2009 to 2018 and found that MBA graduates increased their salaries by an average of $36,742.
According to research from the Forte Foundation,16 the average MBA salary after five years is between $151k and $172k (these numbers represent averages for women and men, respectively).
Which way are you leaning? Are you ready to take the next step in your education and in your career?
Have you done a cost/benefit analysis to see if your expenses for an MBA will be offset by future employment and advances in your profession? You may still be asking "Why should I get an MBA?" Ultimately, it's up to you to see if you can strike a balance between the payoff and benefits to decide if an MBA is right for you.
Median starting salary for MBA graduates
at US companies (2021)