When presented with unexpected opportunities to shine as a Tippie student, Ally O'Meara said, "Sign me up!"
---
Hard to beat for opportunities to shine
Where some students shy away from unfamiliar experiences, Ally O'Meara has never faltered in her willingness to try new things.
From her choice to pledge Alpha Kappa Psi, Tippie's co-ed business fraternity, to becoming a Frank Business Communication Center tutor, she's uncovered strengths she didn't know she had.
Say "yes" to … pretty much everything
"If you'd have told me before I came here that I was going to hold leadership positions within a fraternity, I would not have believed you," she laughs, "but rushing Alpha Kappa Psi was when the switch flipped: I'm getting a degree, I'm going to graduate, I'm going to work in the business world, what can I do to prepare for that?"
Becoming more involved on campus is how she began building her confidence as a businessperson. One such role was as head tutor at the Frank Center. Ally's initial reaction to the invitation to help students with their writing was one of disbelief: "I didn't even think I was doing that well in my Business Communications class," she laughs.
But despite her hesitancy, she said 'yes' to the challenge, taking on something completely unfamiliar to both enrich her own experience and help fellow students clearly communicate with future colleagues and peers.
"While I don't consider myself the best writer ever, my parents both came to Iowa to become teachers. Growing up with teachers, I innately know how to explain and teach due to that background," she explains.
Ally saw first-hand how Iowa's emphasis on writing and communication is unique—and part of what makes the Tippie experience so valuable—through helping other students with their writing.
"To be able to create a safe environment for students to share their thoughts and giving them the courage to do that has been the most rewarding part of being a Frank Center tutor."
Making sense of dollars and cents
In her work as a tutor, Ally experienced what it's like to try and decipher a paper about an unfamiliar topic. She admits that she loved reading accounting papers—because she had no idea what they were talking about!
"A student will say 'The answer is 34.' And I say, 'Tell me why you believe that, and why should I believe you,'" she laughs. "It's one thing to write out a spreadsheet formula and get the answer. It's a lot more challenging when it comes to 'This is what I think, this is what I believe, and why.'"
The more Ally became immersed in business, the more she recognized that communication would be a critical component of her success. During her internship at HNI Allsteel, she discovered a love for product management, brand storytelling, and creating brand personas—an area she hopes to keep exploring post-graduation.
"I'm doing a lot of research projects and cost-savings analysis, but in the end it's all about how you can communicate what you found and make it easily accessible to the people around you," she explains.
Try it all, keep what you love
Ally has dipped her toe into many different roles during her time at Tippie. Aside from tutoring, she's been a Business Student Ambassador, Tippie International Buddy, and worked briefly with InvestHer, the Newman Center, and Dance Marathon.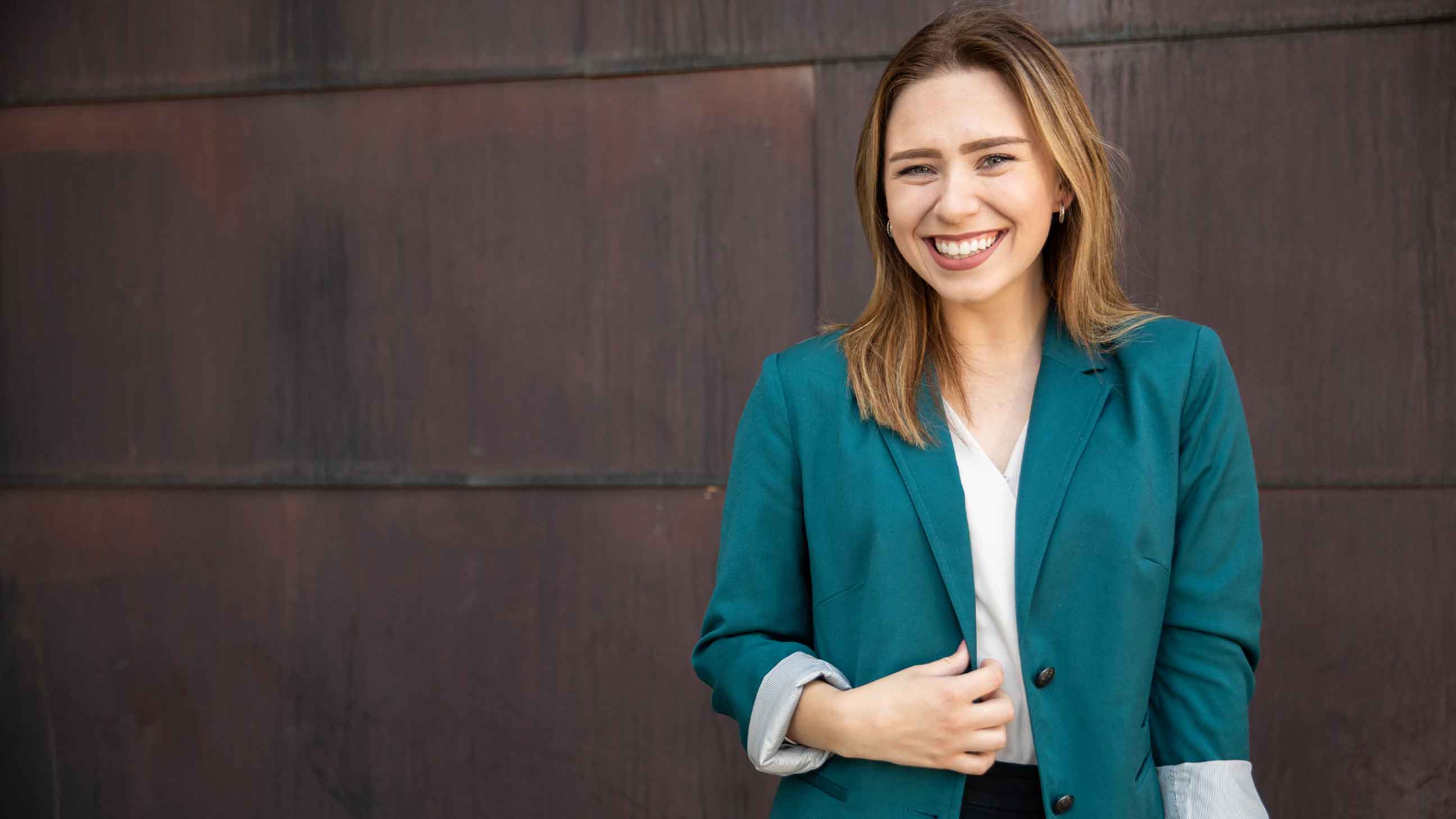 "Tippie has made me feel like I have a place to grow and a place to begin. There's a place for you no matter what year you're in, it's open to everybody, and it feels like you belong in every stage."
Her advice to incoming students is to seek out opportunities to find yourself and be yourself—even if they scare you at first.
"Don't be afraid to do the scary thing, because it might end up being your favorite thing in the world."