After a logistics internship, Helen landed a job optimizing digital ads for the right client audiences.
---
Pivot from undecided to perfect fit
When it came to selecting the right college, Helen Wagner couldn't focus. She applied to a record 17 schools, including the University of Iowa—both her mom and sisters' alma mater.
She had seen what Iowa could do for her sisters. And when she finally got serious about her own first year, she saw what Iowa could do for her.
Read how getting to know your professors, classmates, and campus can put you on the right track.
#1: Choose a major that suits your talents
After taking introductory business courses, she loved how her coursework applied to everyday life. She got to know her Tippie professors, and they helped her decide on business analytics and information systems (BAIS) as her major and understand the different career paths she could take.
"Ultimately, I saw myself in a board room and not over an operating table," Helen says.
"After making the decision to study business analytics, I earned the highest GPA of my college career and genuinely enjoyed all of my classes."
#2: Learn from professors invested in your success
When daydreaming of what college would be like, she never thought she would exchange sleeping in on a Sunday for opening the business analytics lab at 7:30 a.m. But she loved her classes and built a close network of classmates who made the Pappajohn Business Building their second home.
"Everyone in college wants to come away and say that your teachers were really dedicated and focused on your success," Helen says. "I can say that with absolute confidence. There were nights when professors made trips to the library at 2:00 a.m. the night before a project was due, trying to help us with whatever we didn't understand."
On one project, Helen and her classmates consulted for GE Capital for an entire semester. It was her capstone course, and her team recommended ways GE could combine processes to operate more efficiently, saving time and money.
"It really helped establish an environment of what the working world would be like," Helen says. "I use things that I learned from that project every day, whether it's client communication and being prompt with email responses or thinking through a problem."
#3: Be a campus leader
Helen knew she made the right college decision when she starting leading prospective students on tours as a Business Student Ambassador. For someone who struggled with deciding on the right school, she loved being able to give advice to people who were in her same shoes.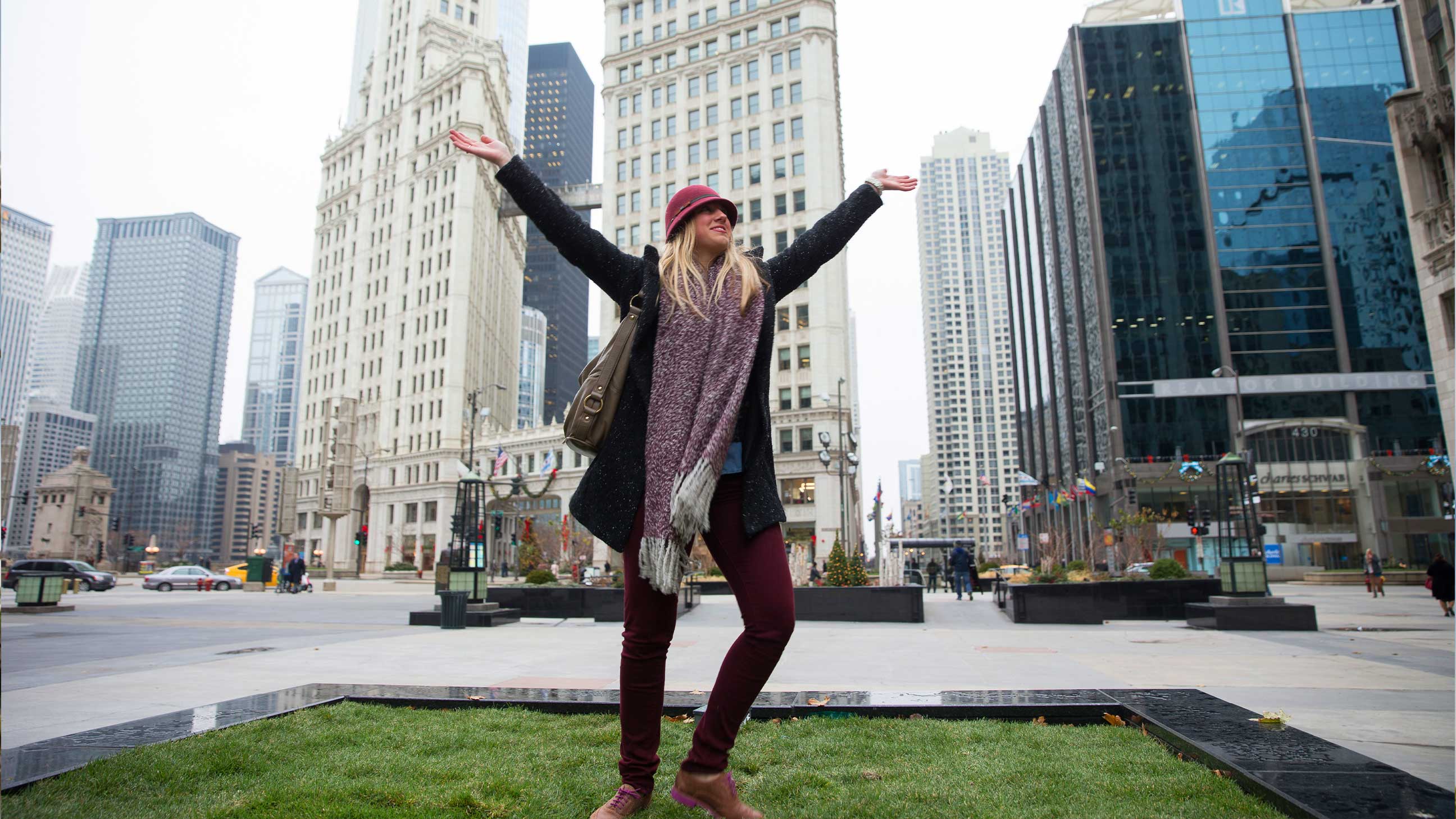 "I got the chance to explain to others why I loved it there. I was so proud to share what my school had to offer and excited that someone else could feel that pride."
As an officer for Chi Omega, Helen managed a budget and coordinated large-scale social events. She was the executive director of Greek Week and planned all year long for a week's worth of events.
"If you want to get involved at Tippie and put the time and energy into it, there isn't a ceiling that will stop you," Helen says.
#4: Get hands-on experience
How do you minimize empty delivery trucks on the road? As a national account manager with Coyote Logistics, a freight brokerage company, Helen spent her internship answering that question. She helped clients figure out the most efficient way to get their products from A to B, booking 350+ freights across the United States per month.
"I was able to translate what I learned in the classroom to the job," Helen says. "You don't quite know what a 9 to 5 is until you go for it."
#5: You don't have to look far for experience
Helen was a media writer and analyst for the Tippie College of Business, and analyzed the college's social media sites. She tracked how students, prospective students, and parents used the Tippie website and recommended how to better reach each target audience.
"It was perfect for me. I loved that opportunity," Helen says. "That's how I got my foot in the door at MBuy. Tippie prepared me with Google Analytics exposure and put me above the rest in the programs that I knew."
She juggled several offers after graduating, eventually accepting an optimization analyst role with MBuy, Mediaocean's media buying agency. She makes that new pair of specs you've been eyeing appear in the sidebar of your favorite website. She matches digital ads to audiences for clients ranging from state tourism boards to quick-service restaurants to major banks across the nation.
"I find the ideal target through knowing your browsing history and your demographic and what I think you'll be interested in," Helen says. "I have the coding aspect of actually finding that ad and delivering that ad to you. There's a lot of waste out there in digital advertising. My company works to find the right people."