by Tom Snee
A new initiative at the Tippie College of Business gives students hands-on learning experiences in sales while providing startup businesses with a vital sales and marketing resource.
The Tippie Inside Sales Lab opened this spring and acts as a call center for its business clients, most of which are too small to have such centers themselves. Student interns make phone calls on behalf of the clients from a room in the Pomerantz Business Library in the John Pappajohn Business Building.
The center was developed by Charles Keene, who joined Tippie last summer as an associate dean and instructor of marketing. It's only the second center of its type in the country. The first, at the University of Missouri, was also started by Keene when he taught there before coming to Iowa.
To be sure, Keene says this is not a boiler room call center with telemarketers calling random phone numbers on behalf of shady clients that interrupt meetings or favorite TV shows. He said Tippie's caller interns will represent specialized clients that have very narrow prospect lists. A food service company that sells only to restaurants, for instance, or a medical equipment manufacturer that sells only to hospitals and clinics.
The callers are students from across campus who are looking for experience in sales, he said. They will do the same work a sales professional does—analyzing and cleaning prospect data provided by the client, deciding which are optimal customers for the product, and making the calls themselves. Clients will hire the interns, and can request a student with specialized educational backgrounds to answer technical questions prospects may have. For instance, he said an engineering firm may want a student from the College of Engineering, or a pharmaceutical company may want students from the College of Pharmacy.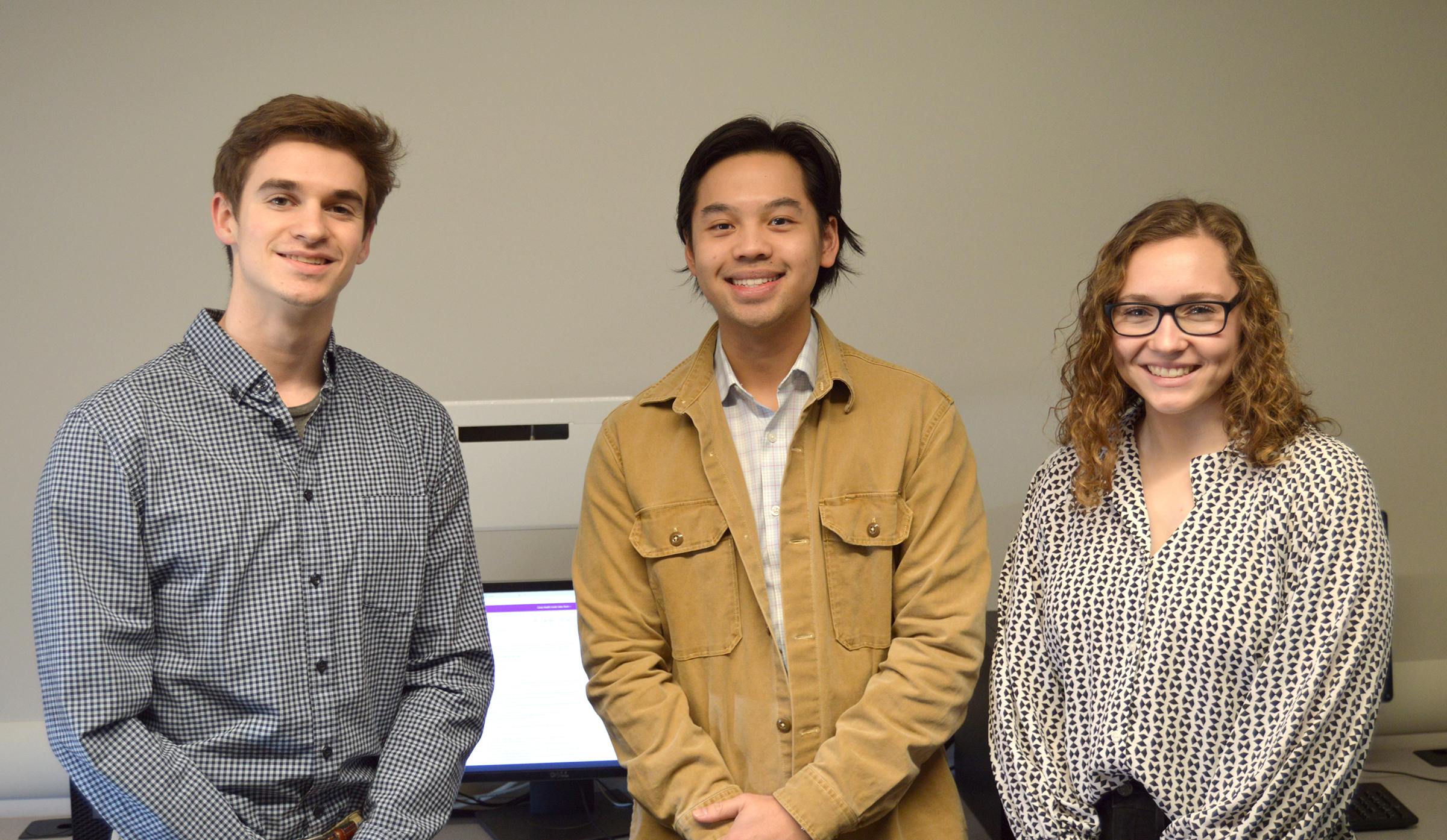 Each project will be different, he said, depending on what the client needs and what the university can provide.
The center is starting off with three student interns working for its first client, Ceras Health, a Boston-based health care management company. Keene is currently negotiating with other potential clients, including businesses in Iowa.
The student interns are Marcus Do, a senior from Waukee, Iowa; Matthew Rowland, a senior from Burlington, Iowa; and Gabi Allen, a junior from Geneseo, Ill. The students spent three-plus weeks training before making calls, working with both Keene and their supervisors from Ceras to learn more about the products and services they're selling.
"We've been doing deep dives into the services Ceras offers so we can demonstrate the value of what we're selling to our clients," said Rowland.
All three are planning careers in sales and are looking for experience to learn the basics before they start. They're also looking for ways to manage the inevitable rejection that comes with sales.
"I'm hoping to learn ways to navigate objections and becoming more comfortable in hearing no's," said Do, who turned out to be the first to book a new client for Ceras.
Allen has previous experience selling car wash memberships and reports developing a "thick skin" from those rejections. She's hoping for experience working with customers and prospects who are more willing to talk with her.
Interns are paid $15 an hour and receive academic credit. Clients pay $15,000 to help offset overhead, including software licenses and phone charges. Internship salaries are not included. 
As many as 25 interns will work for the center, getting hands-on experience in sales cycle processes, industries, markets, data analysis, and prospecting. In some cases at Missouri, Keene said it's led to full-time job offers from the client for interns. At the same time, it provides small companies, many of them start-ups, with a valuable marketing resource they could not otherwise have.
Keene said the engagements are also tools for gathering data that academic researchers can use to study sales techniques, consumer behavior, and other marketing studies. He said all calls will be recorded and made available to University of Iowa researchers.
MEDIA CONTACT: Tom Snee, 319-384-0010 (o); 319-541-8434 (c); tom-snee@uiowa.edu