Tuesday, September 27, 2022
To illustrate Dan Collins (BBA68/PhD73) on the occasion of his retirement, we wanted it to be more than a simple photograph. We wanted his portrait to somehow communicate the breadth of his 45-year career. We wanted him rooted strongly in Iowa. We wanted viewers to know he was not just a professor, but a formidable researcher. And we wanted his dozens of Ph.D. students represented. So, we enlisted the help of artist and Iowa alumnus Lucas Underwood (BA03/MFA15) for this Herculean task. While Collins was teaching his last two semesters of classes, we were busy layering as much meaning as we could into this portrait. The longer you look, the more you'll see!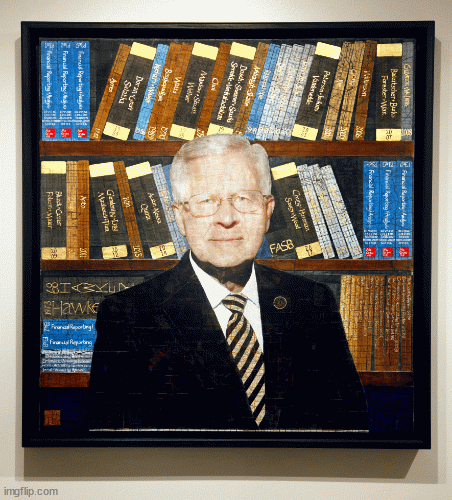 Details embedded in the artwork
The gold stripes of Dan's tie feature Marshalltown, Iowa (where he went to high school) and Iowa City.
Dan's Ph.D. students from 1982 to 2021 in golden metal leaf calligraphy on books of collaged Iowa maps spanning from Marshall County (top left) to Johnson County (bottom right).
All eight editions of Financial Reporting and Analysis, the widely used accounting textbook Dan co-authored.
3-D bookshelves made from layered maps where Michigan State University, Northwestern, and Duke are located. (Representing Dan's limited time away from the University of Iowa when he began his career/was a visiting professor).
A Financial Accounting Standards (FASB) textbook represents the countless hours Dan has spent in the classroom as an accounting professor.
The deep blue fields at the bottom corners are made of indigo-coated maps of the Pacific and Atlantic Oceans (partially visible under bright light), representing the pull of the coasts. In the portrait, as in life, Dan remains solidly in the middle of the frame (and country). A loyal Hawkeye, through and through.
Journals where Dan's research has been published (shades of blue) and served as a referee (shades of tan leather).
The University of Iowa presidential seal as a lapel pin.
The 1968 and 1973 yearbooks (the years in which Dan got his bachelor's and doctoral degrees in accounting from the
University of Iowa).
Dan's jacket is made of Iowa maps. While painted a traditional "Hawkeye Black," you can still see details of the maps underneath if you move in relation to the piece. As the light catches it at different angles, county lines appear in gold and warm hues.  
Composition generated from a medium-format photograph taken by Underwood, a former assistant at the Lasansky Gallery and Studio.
Dan's face was made using an ink transfer process utilizing a flipped inkjet print of his photograph, painted on transparent matte medium, and Iowa maps. Through pressure, the ink detaches from the paper it's printed on, adhering to the matte medium instead. 
A weighty legacy. The framed piece tips the scales at roughly 23 pounds.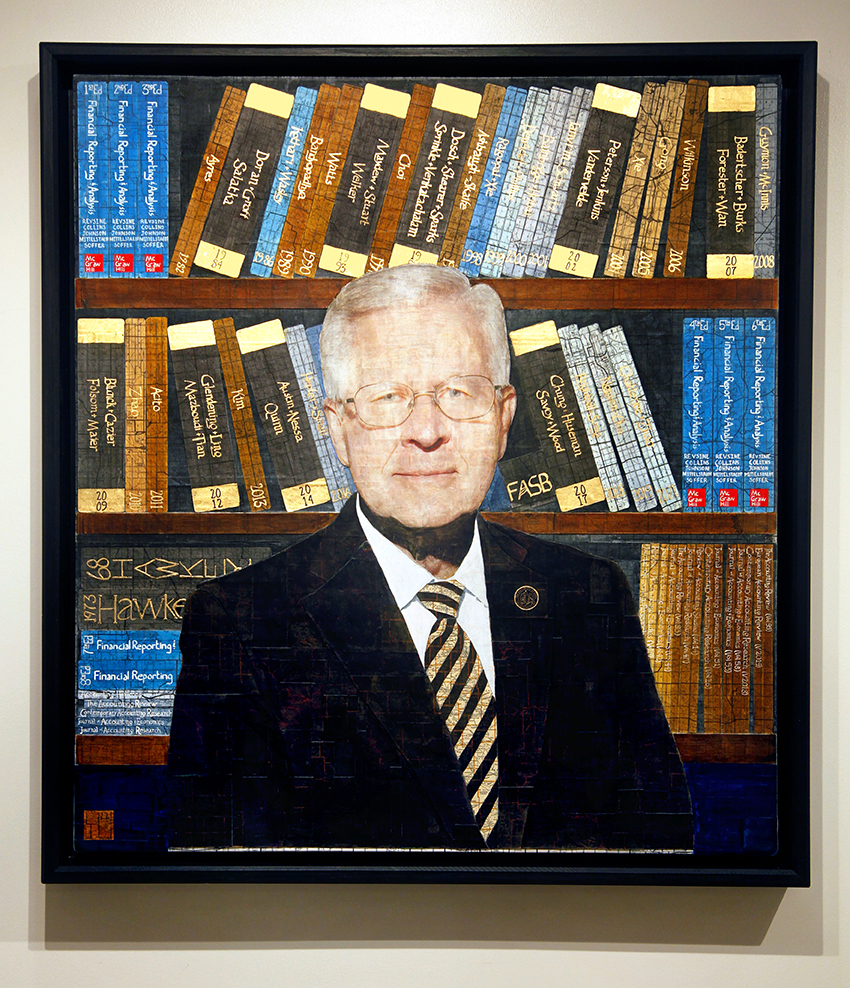 This article appeared in the 2022 issue of Iowa Ledger.