What the research says so far about environmental, social, and governance (ESG) disclosures
Wednesday, November 15, 2023
Sullivan Scholar Maureen McNichols Sees Opportunity in Sustainability Reporting
Off the coast of Nazaré, Portugal, there is an underwater canyon that creates some of the highest waves in the world—and a huge
challenge for surfers.
In her public lecture, the 2022 Sullivan Scholar in Residence, Stanford's Maureen McNichols, compared the Securities and Exchange Commission's (SEC) proposed mandatory environmental, social, and corporate governance (ESG) impact disclosures to the towering waves in Nazaré.
The disclosures, which are already mandatory in some states and in the European Union, will shed light on corporations' ESG activities and provide transparency to investors, said McNichols. The new rules will also present a huge challenge for companies, financial reporting professionals, and academics for decades to come.
"It will change how we interact with regulators, investors, corporations, managers, and how we educate our students," said McNichols, a professor of accounting at the Stanford Graduate School of Business.
"This is our hundred-foot wave."
The SEC's continued focus on ESG disclosures comes along with the United Nations' sustainability development goals, a diverse set of aims that includes ending poverty and world hunger and mitigating climate change by 2030. The capital needed to reach these goals has created a significant area of investment—impact investment, or intentionally selecting companies with a positive social impact, which is gaining traction worldwide.
"Younger generations expect more focus on environmental issues and commitment to mitigate the problem. And corporations and their leadership are held accountable for their company's impacts now more than ever," McNichols said.
The disclosures will also create countless research opportunities.
"Lots of fascinating questions will arise out of these disclosures," McNichols said.
"Maureen's residence seeded ideas about what researchers can do to help address these really important questions about ESG, which is part of why we bring these scholars in," said Accounting Department Executive Officer Cristi Gleason. "These residences are really aimed at helping early career scholars get a broad view in an area from thought leaders in the field. It was great for our Ph.D. students."
The Sullivan Scholar in Residence program is supported by Michael Sullivan (BBA87). Thanks to his generosity, each year the Tippie accounting department hosts a high-profile accounting researcher for a week on campus to deliver a public lecture and meet with Tippie Ph.D. students and faculty.
So Far, Investors Don't Seem to Care
Austin Moss (PhD22) was part of a research team that investigated the buy and sell decisions of individual investors in relation to ESG press releases.
Using an hourly dataset from Robinhood Markets, they found that ESG disclosures do not affect retail investors' portfolio adjustments.
The study indicated that the response to ESG press releases is no different than the routine portfolio adjustments that occur on days where no announcements are made. In contrast, these same investors do make economically meaningful changes to their portfolios in response to press releases that do not pertain to ESG, especially if they are about earnings announcements.
THE TAKEAWAY: "Despite anecdotal and experimental evidence that retail investors
prefer firms that 'do good,' we found that ESG press releases are irrelevant to retail
investor reallocation decisions."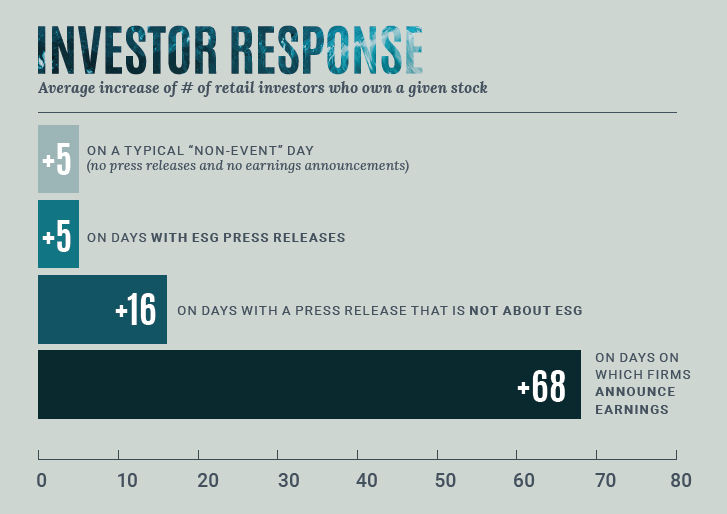 Expect Messy and Uneven ESG Policing
The SEC is doubling down on ESG.
The commission now proposes that registrants determine how climate events, risks, and transition activities affect each line item on financial statements individually and disclose the items that exceed a bright-line threshold.
The proposed rules are expected to increase climate-related lawsuits against registrants, which caught the eye of Assistant Professor of Accounting Michael Durney.
Along with this, the U.S. Fifth Circuit Court of Appeals ruled that the SEC's enforcement process is unconstitutional because it, in part, precludes defendant's right to a jury trial. The ruling will likely cause significant changes to the SEC enforcement process and result in more jury trials.
So, with seemingly endless jury cases coming about ESG disclosures, Durney wondered if jurors could actually remain impartial on such a divisive issue and began research on this unpublished working paper.
His experimental findings? Nope.
Durney predicted and found that jurors' views on climate change significantly influence their verdicts. Further, he found that rather than mitigating the influence, the proposed bright-line threshold actually makes it worse.
THE TAKEAWAY: "Since many jurors are inclined to issue verdicts consistent with their personal views, effective, consistent enforcement may prove difficult."
How Accounting Researchers Will Make an Impact
"ESG has become a flashpoint in policy discussions. Tax accounting researchers have a unique opportunity to contribute objective evidence to the discussion because taxes fund the government and thus regulation, enforcement, and oversight and because taxes are used to provide incentives to promote private adoption of ESG aims. Whether those incentives are efficient and effective, how different groups respond to them, and how companies navigate the ESG environment are all areas in need of more evidence."
"Our research will contribute to meaningful public policy discussions."
—JARON WILDE
Director, RSM Institute of Accounting Education and Research,
Thomas and Margaret Kloet and Arthur Andersen Fellow in Accounting,
and Associate Professor of Accounting
Stay Up-to-Date on ESG Developments
If you'd like to keep up with emerging evidence about ESG disclosures, connect with the Social Impact Community (SIC)! The SIC will share updates about ESG disclosures through its quarterly newsletter and plan to convene working groups so organizations can learn from one another about how to navigate the changing environment. It also connects organizations with students and faculty to help investigate their specific ESG challenges through research.
To find out more and join the SIC mailing list, visit tippie.uiowa.edu/sic.
The Social Impact Community is a research and engagement center at the Tippie College of Business that was created to bring together faculty and external partners (businesses, nonprofits, government) who are interested in the ways that organizations can have a positive impact on society.
This article appeared in the 2023 issue of Iowa Ledger.