Originally a finance and accounting major, Srilekhya Akkina found her true passion through travel and internships. Now she's applying what she learns in class to the real world—instantaneously.
---
Pivot from accounting to analytics
Originally a finance and accounting major, Srilekhya Akkina used global travel and internships to test if her major was a right fit. (It wasn't.) But she uncovered new interests, and now applies classroom knowledge in the real world immediately.
Since changing her major to business analytics and management, she's splitting her time as a part-time student and full-time management reporting intern with Transamerica.
See how she positioned herself to help the global finance company usher in its first analytics department.
#1: Grow your global perspective
After two weeks in London with her finance elective course Wealth Management, Sri studied in Italy for the summer semester.
"Studying in Italy has been by far my favorite experience yet because I got to network and connect with faculty members from across the nation. We got to connect with CEOs and visit some of the coolest businesses that I've ever seen."
One of the local businesses she toured made panettone—you know, the fluffy sweet bread you'll find in U.S. stores during the winter holidays.
"It helped me learn about niche markets," Sri said. "For example, the panettone company only runs seasonally, and people love their bread. They're very well-known across Italy and other countries as well. I thought that was really cool to see how they still make such large profits even just being a seasonal company."
"I learned that most Italian businesses are family-owned, rather than run like the large corporations we see here," Sri continued. "Going to each of those local businesses really helped me see how different the business world is."
#2: Get hands-on experience
As soon as she returned from Italy, Sri started her internship with a management consulting firm. She worked closely with the CEO, identifying and developing tools to help meet clients' business needs and to handle the firm's own management of customer relationships.
"That internship drew me into the consulting world. I would like to incorporate my business analytics major along with consulting to help large companies navigate through their data and create more visually appealing reports for them to easily understand," Sri said.
She landed the internship through her capstone course after being paired with the firm's CEO on a project. In her capstone project, her team analyzed the international market for a real client, PrepIT, an online education company that was considering expanding globally.
Sri's team reviewed PrepIT's competitors to discover what differentiates the company from others in the marketplace. Then they presented their findings to PrepIT's owners.
"We recommended they expand more nationally before going international," Sri said. "Because they offered a limited number of classes, we also recommended that they expand with a larger array of classes and to more U.S. cities and states before they expand to areas like China, India, or Dubai."
#3: Create your own career path
It pays to network at career fairs—even if your internship doesn't follow immediately.
Since freshman year, Sri has been getting to know Transamerica. At a couple of career fairs, she's developed relationships with several recruiters, including the insurance company's director of finance.
Sri hit it off so well with Transamerica recruiters that the company created a new role for her as it prepared to launch its own analytics department.
"There's such a large accumulation of data and trends at this company," Sri said. "They're really open to my being creative and navigating through the data and creating something that I think would be best for helping leaders in the company easily understand the data. I really like the flexibility and the creativity that they've given me."
She's now working with software like Tableau, Alteryx, Visio, and Excel to analyze Transamerica's large swath of data. In class, she's also learning new software, like ExtendSim. Once her internship ends, she's arranged a job shadow opportunity with the data analytics department at Transamerica's parent company Aegon in Mumbai, India—the country where she was born. She'll have a full-time position at Transamerica waiting upon her return.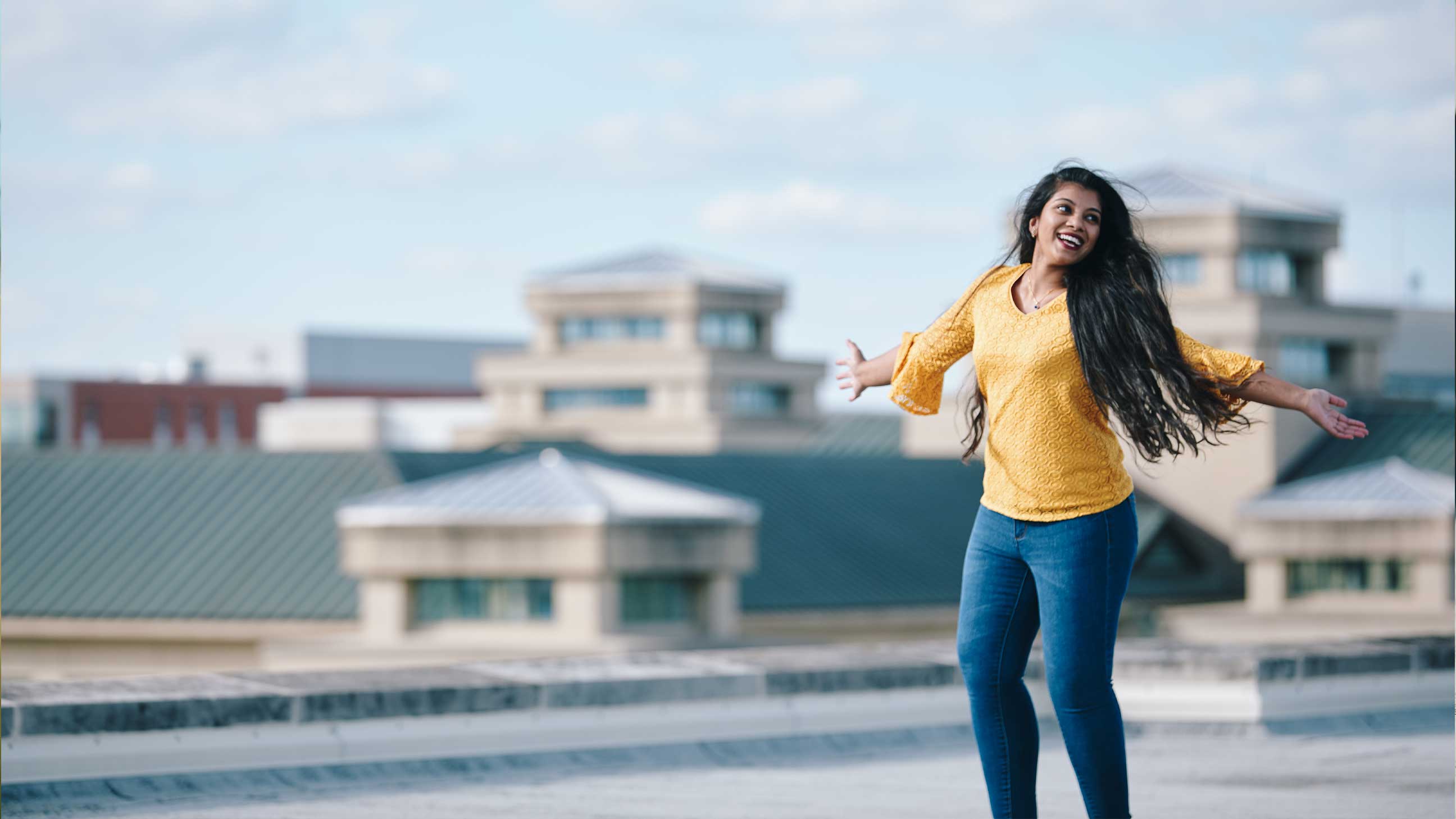 "Tippie does a great job of teaching students to chase after your dreams. You have to network and know the right people. But you also need to have technical skills."