Tuesday, September 13, 2022
If you're a Tippie alum reading this story, you already know that a Tippie College of Business degree helps start your career on the right foot. 
But you may not realize how many ways Tippie can fuel the next steps in your career—whether you need to build a specific set of skills quickly after a promotion, or you're ready to enter the C-suite or launch your own business.
A number of recent changes in the workforce and at Tippie make it more likely than ever that the college can help you level up in your career, says Dean Amy Kristof-Brown. "Employers are now more likely to value a wider range of degrees and certifications so that their employees can skill up. Employees want offerings that are digestible, flexible, and help them learn what they need to know just in time," she says. "We're ready to be a partner for you as you continue your learning, no matter where you go in your career."
Still, the array of options can be dizzying. To find an option that will fit you like a glove, grab a pen and complete the sentence below. Based on your answer, we'll give you the exact roadmap to follow. 
A year from now, I want to ___________.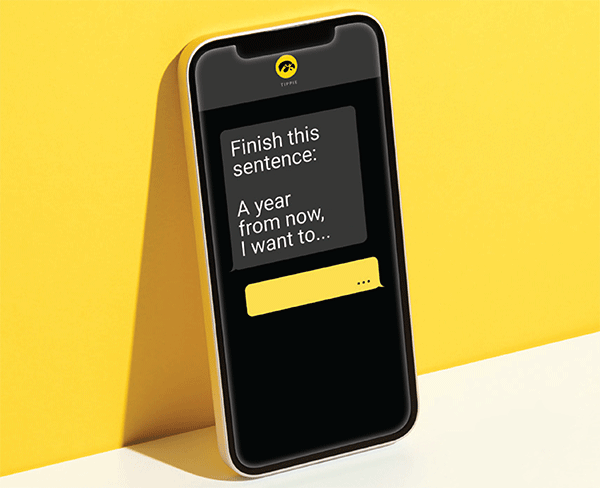 Learn from some of the best business minds in the nation—in just an hour.
Your next step: Tippie Alumni Webinar Series
The details: Learn from Tippie experts about today's trending topics in free hour-long webinars.
Here's what you'll learn: Tippie faculty offer webinar presentations on such issues as the Great Resignation, communication skills, and tax policy changes between the Trump and Biden administrations. You can also learn from panel events that bring together alumni experts on specific topics, including entrepreneurship and the business of sports. 
The webinars are designed to cover hot topics while going beyond the basics, says Director of Alumni Engagement Ashley Durham. "It's a free program, but we understand that people are still investing an hour of their time, so we want to make it worthwhile," she says.
"I appreciate the Tippie webinars because they keep me informed of business issues, management trends, and tips for experienced professionals," says Spencer Anderson (BBA09), senior director of basketball analytics with the Indiana Pacers. "Tippie career-development webinars are a trusted source I have used successfully in my own life to navigate career and management challenges, and I encourage all alumni to explore and utilize this excellent resource."
Attend the webinar live and you can even ask the presenter your toughest questions. Have a schedule conflict? You can watch later on the college's YouTube channel and browse dozens of previous webinars to find what you need. "We want to be a great resource for alumni and others to continue their education," says Durham.
Learn more: tippie.uiowa.edu/alumni-webinars
Launch my own business.
Your next step is: Venture School
The details: The seven-week program helps Iowa entrepreneurs through the startup process. Venture School is offered by the John Pappajohn Entrepreneurial Center at numerous locations across Iowa each semester (plus a virtual-only option). Topics include customer discovery, value proposition testing, and real-world experimentation. You can tap into a network of experienced mentors and get advice and support from other entrepreneurial-minded participants. 
Meet your role model: Russel Karim is a two-time Venture School alum. In 2016, he used the program to build the restaurant meal delivery service Cedar Valley Food Runner. The company was acquired by EatStreet in 2019.
Karim went through the program again to develop Dhakai, a company that connects apparel manufacturers with private-label fashion brands, boutiques, and retailers. 
Karim credits Venture School for helping him build a strong and scalable company: Dhakai currently serves more than 200 brands and has 500 factories on its platform. He expects to double his team's size to 28 in the coming months. "The structure of the program, the accountability, and the mentors have really contributed not only to the trajectory of the company, but to who I am as a founder," he says.
Karim also values the community that Venture School creates for members of each cohort. "Everyone's going through a similar experience as you—they're excited to build a company, they understand the struggles, they know about pivoting," he says. "You're not alone."
Learn more: iowajpec.org/venture-school 
Add a new skill to my arsenal.
Your next step: Graduate certificates
The details: Pursue a focus in one of six distinct areas, including business analytics, business fundamentals, finance, leadership, marketing, and innovation. The coursework, typically a four-or five-class sequence, can be completed in as little as a year. Should you choose to continue your studies, credits count toward the Iowa MBA.
Meet your role model: Addie Smith was working as a dealer integration lead at the machinery manufacturing company Vermeer when she decided to upgrade her skills. "I needed to be thinking about new tools and technologies for the organization," she says. "If we were going to hire data scientists, I needed to know what they were talking about." 
Unsure she wanted to make a multi-year commitment to an MBA or master's in data analytics, she found Tippie's certificate in business analytics a perfect fit. The program offered formal training in areas including database management and visual analytics.
The certificate was just what she needed to move up in her career: she was recently hired by Wellmark as a leader for the operations analytics team, a position she landed in part because of her new skills. "Right now, I have three analysts and a data scientist reporting to me—and I know how to speak their language," she says. And she's not ready to let up: she's applied credits she earned from the certificate to an even bigger goal: the Iowa MBA.
Learn more: tippie.uiowa.edu/graduate-certificates
Build expertise in an emerging industry.
Your next step: Part-time Master of Science in Business Analytics 
The details: You'll take 10 courses on topics including data science, data visualization, text analytics, and big data management, then cap it off with an analytics project solving a real-world business problem. Such skills are in demand: two out of three employers say data science skills will give a job candidate an edge.
Meet your role model: As a leader, Tony Sithonnorath (MBA12/MSBA21) is a great listener and a thoughtful decision maker. Still, as the team leader of the quality program and accreditation team at Wellmark, he knew he would only be able to do his best work with his analytics colleagues if he understood the field and was communicating in a way that resonated with them. He enrolled in Tippie's Master of Science in Business Analytics program to help him achieve those goals. "I needed a field of study that complemented my strengths," he says.
He was soon conversant in SQL, R, Python, and other programming languages. He loved learning with other busy but motivated professionals who were eager to improve. And the coursework paid off. "During analytical conversations, it wasn't just that I could hang with my colleagues from a mathematics and programming perspective, it was also that I was able to ask better questions and get better responses," Sithonnorath says. "I was able to start incorporating what I learned in the classroom almost as soon as I started the program."           
Learn more: tippie.uiowa.edu/masters-business-analytics
Supercharge my career opportunities.
Your next step: Iowa MBA
The details: From operations and supply chain to strategy foundations, you'll open up career opportunities with skills learned in the part-time Iowa MBA program. Designed to be completed in as little as two years, its in-person, online, and hybrid options will fit into your life and drive results. More than 70 percent of respondents in a recent survey of graduates reported that they received a promotion after completing their degree.
Meet your role model: Megan Gustafson (BBA19) is a beloved Iowa basketball icon and current member of the WNBA's Phoenix Mercury, but she knows that she can't rely on her athletic skills forever. That's why she enrolled in the Iowa MBA program just a year after earning undergraduate degrees in marketing and finance with a psychology minor. "I want to prepare for my future as best as I can, which means deepening my knowledge, skills, and abilities," she says.
While she considered a range of options and schools before honing in on the Iowa MBA, the trust she had in Tippie, paired with the online-only option, made it easy for her to remain a Hawkeye for her next step. With her extensive travel schedule in the WNBA as well as a months-long season each year in Europe, she's benefited from the personal attention and flexibility of the program's faculty. She watches recorded lectures and stays in contact with her professors via email. She also carves out time to do group work with other professionals in the program who have their own busy schedules.
What's next? She's currently exploring a number of options—she's interested in marketing, real estate, and investment—and feels confident she'll have a clear path by the time she graduates. "I'm preparing now for the day that I actually do have to put the basketball down."
Learn more: tippie.uiowa.edu/iowa-mba
Help my team level up their skills.
Your next step: Tippie Leadership Collaborative
The details: If your organization would benefit from practical ideas to support team building, leadership, employee engagement, or diversity and inclusion, Tippie is ready to help with customized programming led by faculty and other highly regarded Tippie experts. 
Meet your role model: Jennifer Banta is vice president of advocacy and community development at the Iowa City Area Business Partnership (ICABP)—an organization of more than 800 businesses in Johnson County. As 2021 came to a close, Banta sensed that local business leaders were struggling. Pandemic challenges had taken a toll and she was eager to create programming that could help these leaders thrive. 
She connected with the Tippie Leadership Collaborative's Stephen Courtright and Allison Hershberger, who worked with her to craft executive-level training for members of the organization.
The trio developed powerful content for a year-long executive leadership program that included sessions on retaining and recruiting talent, diversity and inclusion, and workplace well-being. "Reaching out to the Tippie Leadership Collaborative was valuable because they helped develop customized content in ways that have been relevant to our business leaders," she says. "I don't think there's anyone better than Tippie at helping grow leaders."
Learn more: tippie.uiowa.edu/tlc
This article is part of the fall 2022 issue of Tippie Magazine. Alumni are invited to update their contact information with the college to be placed on the mailing list for future print editions.