Tuesday, November 15, 2022
Accounting Department Executive Officer Cristi Gleason had a challenge on her hands.
In the wake of the COVID-19 pandemic, almost every interview for her students had shifted to virtual. Those seeking jobs and internships were coming to faculty with all sorts of questions: In what physical location should students conduct Zoom interviews? Was it okay to sit in their dorm room? Should they take down their posters? How could they get the most out of their virtual internship?
Typically, Gleason would turn to her Professional Accounting Council, which has been in place since the 1980s. This accomplished group of alums fly in twice a year to advise the department on curriculum issues and talk to students. "They are a really seasoned bunch," says Gleason. "Very experienced—a great council. But the pandemic changed the student experience awfully fast for us. And there were just glaring places where we knew we needed input and mentoring from recent alumni. Our students needed firsthand knowledge of how to professionally manage their social media accounts and to understand if they possessed the technology tools required in the real world."
And so, the idea of the Early Career Professional Accounting Council (ECPAC) was born.
Once word got out about the group, the response was enormous. "I thought maybe 40 people would volunteer," says Gleason. "Today, we have twice that number." And the impact was immediate. Among their recommendations: Change up the software. Faculty now incorporate even more Excel in their classrooms, as well as Microsoft PowerBI and Visio, a flowcharting tool. Thanks to the ECPAC, the department also now has a LinkedIn group, which Gleason notes has proven to be a huge recruiting tool for the department, as future Hawkeyes thinking about accounting are eager to connect with alums in the field. Further, the accounting information systems course is significantly increasing the analytics component because of the ECPAC's feedback. "Basically," says Gleason, "We were looking for input from recent graduates about what they needed and what they wished they'd had as students—and their suggestions put us on a significantly different trajectory."
Sammy Maasarani (BBA20) is one such recent graduate who sits on the ECPAC. Now based in Chicago, Ill., as an associate for KPMG, he says he volunteers his time because he recognizes the importance of community with his alma mater. "I enjoyed my time at the UI," he says. "I was a tutor and loved helping other students and seeing them succeed. This mentoring program is a good fit—I can network, feel connected to the UI, and help students."
With the 80 ECPAC members signed up as mentors, the next challenge became how, precisely, to match them with interested students. Enter the app, Tribute.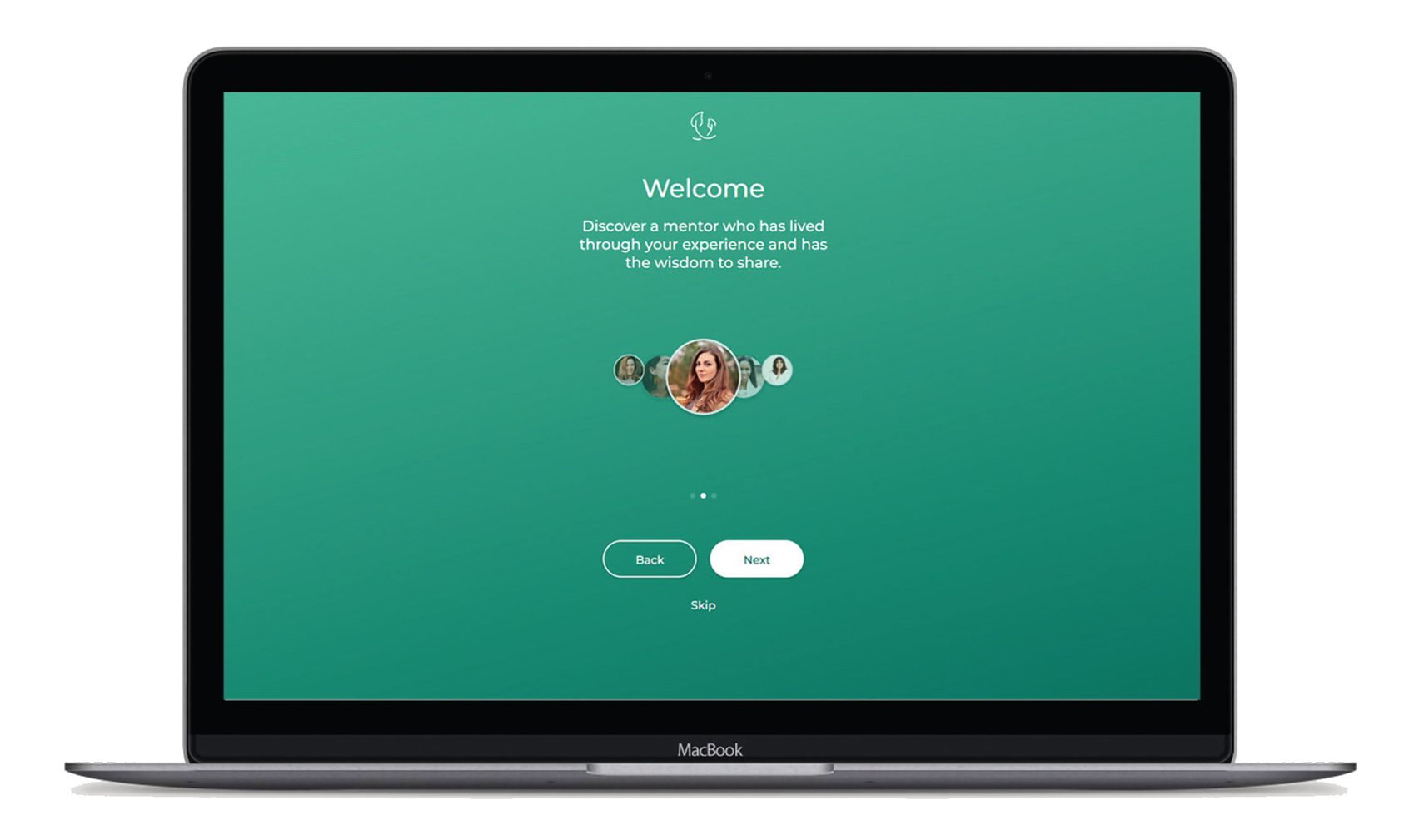 Used by companies like Microsoft, Zillow, and Coinbase to foster mentoring cultures, the Tribute app operates like a dating app, except it's used for mentorship. It is designed so that both mentors and mentees set up individual profiles, and the user can choose from a large menu of attributes to find a good fit.
Tippie Accounting is the first alumni/student use for Tribute, but the app's flexibility is perfect for the "at the moment" kinds of mentoring students need: How do I make a good impression in my first interview? Move from a small town to a big city? Find other first-generation users who can advise how to navigate the job market? Find an LGBTQ+ friendly employer? Perhaps they are currently studying for/taking the CPA exam or navigating work-life balance. The app also provides a filter where a student can, for instance, check a specific box for the kind of work they hope to find, such as within the fields of data privacy and security, asset management, or audit and insurance. The initial mentoring relationship is short—just 30 days—a time limit which can be extended if both users agree. While it allows for a genuine connection to grow, the default 30 days encourages students to build a wider professional network.
Casey Daniel, a third-year accounting student, says the app allowed him to connect with recent graduates who could advise him on classes to take or when and where to get that first internship. "I'm the first one in my family to study business," says the Iowa City native, who was president of the Tippie Accounting Society his first year. "It's not like I can ask my parents. At first, I had no clue where I wanted to go with accounting, so I took my questions to the Tribute app. It was much cooler than I expected. Now if I have a question, they tell me, 'Yeah, just shoot me a text!'"
Daniel recalls one week, Tippie sponsored a "Meet the Firms" night. "Even though I was afraid they'd be dumb questions, I texted my app mentor to see what I should ask the recruiters and to get some confidence." Thanks in part to that mentorship, Daniel is happy to report he got an interview with a recruiter he liked and secured an internship. "My app mentors helped me learn that accounting is not one-dimensional. And having someone to text who knows what they're talking about has been super valuable."
Mentors report the experience with the Tribute app has been gratifying as well. Joe Daniel (BBA14/MAc15)—no relation to Casey—moved to Chicago, Ill., after graduation and spent four years in the audit practice at Deloitte. He's currently a manager at The Siegfried Group, also in Chicago, Ill. "It really is such a rewarding experience to give back to the current students—especially those who reach out," he says. "Being on the mentor side of it, I feel a sense of responsibility to those students who are willing to put in the effort."
Daniel says his commitment per student is minimal: typically, a few texts or calls each month. "It's not overly time consuming," he says. "All you're doing is sharing your experience and advice. You don't need to do any extra work to prepare. There's really no downside. It's just a great opportunity to help the next generation."
This article appeared in the 2022 issue of Iowa Ledger.