To invest or not invest?
A conversation about blockchain and cryptocurrency with Tippie professor Erik Lie and expert alum Joel Telpner (BBA78/JD83).
Who got a promotion, who had a baby, who retired, and who won the 2022 Tippie Young Alum of the Year award? Find answers to these questions and more in our alumni updates section (pages 18-20).
Exchange is the award-winning annual publication for alumni and friends of the Department of Finance at the University of Iowa Tippie College of Business.
2021
2020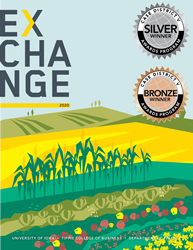 2019