Five lessons from an Ironman
On Bill Smith (BBA93)'s long Ironman training journey, he often thought about business ideas and opportunities, which led him to create: The Ironman lessons you can apply to running a business.
Major General Stewart Wallace, Ret. (BBA68) received a 2022 Hawkeye Distinguished Veterans Award, which honors members of the armed forces who have demonstrated exceptional service to the United States, their communities, and our university. Wallace served 33 years in the United States Army after graduating from the UI with degrees in finance and insurance, ending his military career as commanding general of United States Army Cadet Command. He serves as the military advisor and advisory board chair for the College of Engineering's Iowa Technology Institute and is leading the effort to recognize Iowa students and alumni killed in combat.
Exchange is the award-winning annual publication for alumni and friends of the Department of Finance at the University of Iowa Tippie College of Business.
2022
2021
2020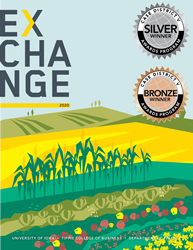 2019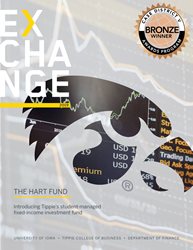 2018