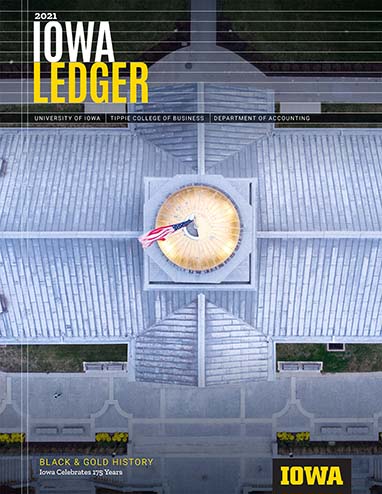 Black and gold history
This is the 175th academic year at the University of Iowa. 2021 also marks 100 years since the business school was elevated to college status. To commemorate these huge milestones, we are taking a look back with historic campus photos.
Where are the 2020 CPA exam numbers?
Have you ever wondered what Phillips Hall is used for now?
Outstanding accounting alumnus awards
Each year we recognize one of our distinguished graduates for their professional achievements and service to the college and our department. We are pleased to announce our 2020 and 2021 winners:
2021
Chris A. Cox (BBA89)
Senior Vice President & Chief Accounting Officer, AMC Entertainment Holdings, Inc.
Iowa Ledger is the annual publication for alumni and friends of the Department of Accounting at the University of Iowa Tippie College of Business.
2019
2018