Like thousands of motivated people around the world, you're thinking about going for your MBA. Maybe you just started looking into this graduate-level degree. Or maybe you've always known you'd get around to it … someday. Either way, you've probably wondered: 
 
---
Are MBAs worth it anymore?
Short answer: Yes.
From 2008–2021, the percentage of companies that hired MBA grads grew from 59% to 92%, according to Statista.com.1 Depending on your industry, you could earn up to $50k more2 with your MBA than just a bachelor's degree.
So, how do you decide if it's the right time to go for your MBA? Start where you are, then ask yourself: Where do I want to go from here? For example:
My job is just a job. I crave a challenge but keep getting passed over for promotions.
I'm looking for a new role, and the ones that most appeal to me require an MBA.
My new idea could be the next big thing—and I need to understand how business works before I can launch my own.
Weighing the challenges, opportunities, and MBA benefits in the future can help you sort out what matters to YOU. Because ultimately, deciding if an MBA is worth it is your choice to make. So let's get started.
 
What are the biggest challenges of an MBA?
Just like any decision-making process, evaluating MBA advantages and disadvantages can help you understand the potential payoff of the degree versus the sacrifices you'll have to make to earn it.
For most, the biggest challenge in earning an MBA is finding the right balance—personally, professionally, and financially. Getting support from your partner, family, friends, and employer is critical. Be sure to talk to the important people in your life before you get started and be realistic about how this may impact your availability in the short term.
The primary disadvantages of an MBA include:
The cost to attend (and how long it takes to recover it) — The average student loan debt from undergraduate programs in 2023 is over $30,000 per the Education Data Initiative.3 Depending on which program you attend, adding an MBA could double that number.
Life disruptions — For around two years, you'll have to make big-time sacrifices to fit the required in-class and study hours into your day-to-day routine.
The stress of being a student again — Going back to school, sometimes after a significant time-gap, is a challenge that should not be taken lightly. Since most people wait five to six years before starting their program, it can be tough to get back into the swing of student life.
What's in it for me? The benefits of an MBA.
Earning your MBA is about more than just a fancy credential in your email signature. It's about developing a broader understanding of how businesses function, top to bottom.
Much like doing a set of planks in your workout routine, an MBA builds a core understanding that will help you take a more strategic, innovative approach to your work.
Some additional benefits of an MBA include:
Increase your earning potential — A 2023 survey by the Graduate Management Admissions Council (GMAC)4 projected a median starting salary of $125k for MBA grads. Iowa MBA graduates report an average salary increase of 31% post-graduation.
Advance your career — Whether you want to move up in your current role, or pivot to a completely different career, an MBA shows employers you're willing to put in the work.
Build a professional network — MBA programs bring together a rich pool of talent and offer events, team projects, and volunteer opportunities to help you form valuable connections.
Access career services — Most MBA programs offer career coaching, resume guidance, and additional training to help fine-tune your application and stand out in the hiring pool.
The value of an MBA degree isn't always measured in dollars and cents. According to the Pew Research Center,5 about 4 in 10 workers say their career is extremely or very important to their overall identity.  The emotional benefits of an MBA, like finding a career you love, learning to lead teams with confidence, and developing your ability to manage change, can lead to an increase in overall job satisfaction.
What does an MBA teach you, anyway?
The skills an MBA teaches range from finance to data analytics to marketing, management, entrepreneurship—and just about everything in between.
What ties the MBA curriculum together is that it gives students a broad overview of how businesses operate. So if you feel stuck in a particular job function or silo, an MBA can help you branch into a new department or leadership role.
"In a lot of ways, the MBA creates a shortcut. You can learn the language and frameworks on the job, but at least in my experience, the MBA shortens the learning curve."
Recently, MBA programs have begun wrapping soft skills like writing, public speaking, and presentation design into their curriculum, according to the Association to Advance Collegiate Schools of Business (AACSB).6 Employers value people who not only think strategically but can also communicate their ideas in a clear, professional way to stakeholders and leadership.
Prospective MBA students we recently surveyed report that the top skills they hope to attain in their MBA program are:
Project management
Strategic planning
Leadership
Problem-solving abilities
Financial analysis
Recruiters surveyed by GMAC cited the top 5 knowledge and skills most important for business school graduates as:
Communication

Data analysis & interpretation

Strategy & innovation

Interpersonal skills

Decision-making processes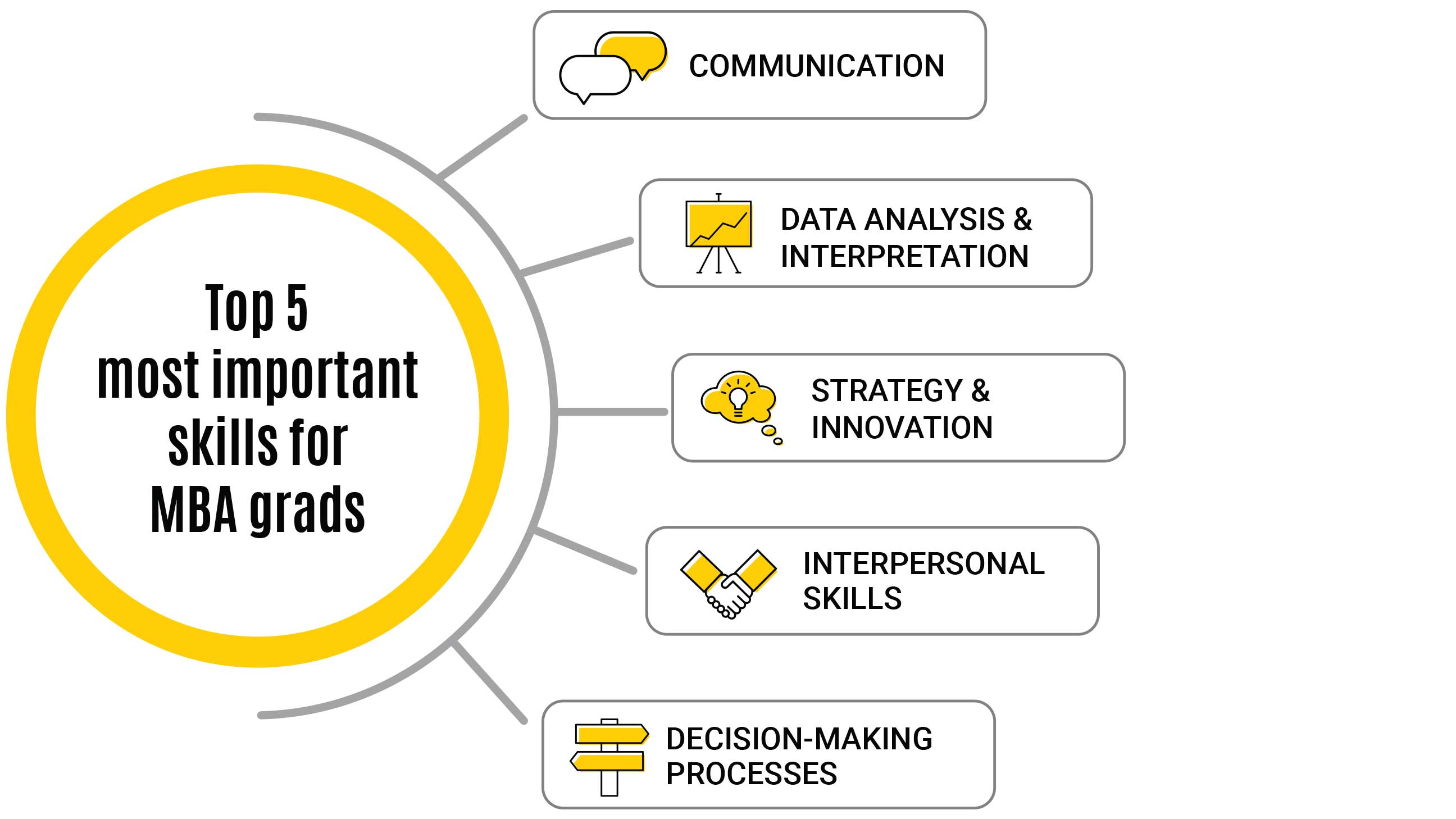 Speaking of the big picture: What can you do with an MBA?
The question may be better phrased as what can't you do with an MBA.
The sky's the limit for most MBA grads. Got an innovative idea for a hot new start-up? The right MBA program can help you understand how to raise capital, manage a budget, hire rock-star talent, and create a business plan.
Gunning for a promotion or move into management? Working your way up the corporate ladder comes with perks—often including better pay, the ability to drive company strategy, and eventually a seat in the C-suite. With leadership and strategy built in to the MBA curriculum, it's a great way to get prepped and ready to move up the ranks.
Already a physician or lawyer hoping to start your own private practice? Your MBA program will give you the tools to make the transition. Professionals in the non-profit sector can use the budgeting, marketing, and analytics abilities an MBA provides to define their target audience, promote their events, and raise funds for important initiatives.
No matter what your role or function, the skills your learn as an MBA can help you move into the next phase of your professional journey.
"When prospective MBAs don't have a business background, but want to move up within leadership, I talk to them about the value of being able to talk the talk. Being an engineer who is able to speak the language of the finance team, for example, adds an incredible amount of trust and respect."
How long does it take to get an MBA?
There are two types of MBA programs: full-time and part-time—and it's possible to complete either in around two years. While the curriculum for both is the same, timing and flexibility is what sets them apart.
A traditional, full-time MBA program requires you to attend classes during the day, Monday–Friday. Most students take two years to complete a full-time program and will have to leave their regular jobs or significantly adjust their work hours to be able to make that happen. Depending on which program you choose, classes may be held in person or online.
Part-time programs are designed to fit around the lives of working professionals. Generally, classes meet on nights and weekends, either in person or online.
Some programs, like the Iowa MBA, offer the flexibility of a hybrid program 100% online with in-person options in Des Moines.
While these programs can be finished in two years, the beauty of a part-time program is that you can go at your own pace and finish in your own time.
Unlike other master's programs, MBA applicants are required to work for at least two years, on average, between their undergraduate and graduate studies. Some choose to return after as long as 10 years in the working world. This real-world experience helps lend important context to the MBA curriculum.
"In undergrad, you learn all this stuff, regurgitate it for the exam, but don't understand if it's useful information. As an MBA student, it was easier to solidify what I was learning, because I was able to relate it something I already knew."
On average, how much does an MBA cost?
According to the Education Data Initiative,7 the average cost of an MBA in 2022 was $61,800, up from $49,610 twenty years earlier. A 2022 study by Business Because8 lists the average cost of a Top 20 MBA school at $189,000.
With prices ranging from $7,000 to upwards of $100k, it's important to keep in mind that not all MBA programs are created equal. An MBA from a for-profit online university may seem like a steal of a deal, but likely won't hold the same clout to employers as a respected, AACSB-accredited public university.
Ivy league programs do tend to turn heads, but most come with a six-figure price tag. For example, NYU Stern clocks in as the most expensive Top 20 program at $246,506. By contrast, the well-respected Iowa MBA, ranked #28 in the nation, goes for just $33,750.
Sounds great. But how will I pay for it?
Nearly all top 20 MBA programs in the U.S. increased their tuition in 2022-23. This sticker shock has many prospective MBA students asking: Can I actually afford this? Here are a few ways to help fund your MBA program:
Employer assistance – Per Statista.com,9 47% of U.S. employers are offering undergraduate or graduate tuition assistance. If you don't know whether your company offers tuition reimbursement – ASK.
Scholarships – Many schools offer scholarships based on test scores, undergraduate GPA, or other qualifying circumstances.
Veteran benefits – Some programs will waive certain fees for military veterans with GI Bill eligibility.
Student loans - The most common way to fund your graduate degree, federal loans are available to most MBA students through FAFSA (Free Application for Federal Student Aid).
Real talk: Do employers care about an MBA?
Absolutely they do.
In their July 2023 survey,4 GMAC notes that 90% of corporate recruiters plan to hire candidates with an MBA. Bringing on an employee who's ready to hit the ground running is one of the many benefits of an MBA degree to a company.
Other advantages include adding employees who understand different business functions and how they work together, and taking on talent who can drive new strategies and bring new ideas to the table.
"Along with position-specific skills, hiring managers are targeting MBA candidates for abilities that can be optimized across roles. For example, strategic planning, creative problem-solving, digital and data competencies, communication skills including leadership and collaboration, and the ability to be agile and redirect quickly."
For many employers, an MBA credential also demonstrates a candidate's commitment to self-improvement, growth, and professional development. This gives employers the confidence to hire MBA candidates at every level, knowing that they're well-positioned to move into future leadership roles.
Recruiters surveyed by GMAC cited the following as the top five most important skills employers are seeking in candidates:
Communication 
Versatility
Strategic thinking
Innovation
Global mindset
Show me the money: How much does an MBA increase your salary?
In 2022, the average starting salary for MBA graduates was 22 to 40 percent higher than for those without the degree, according to GMAC's "Corporate Recruiters Survey." As previously mentioned, the median starting salary for new MBA hires is $125,000 per year.
While salary numbers vary slightly by state, demographics, and industry, MBA salary growth remains reliably steady. A 2021 Forte Foundation study10 showed that the average MBA salary after 10 years grew between 9 and 35 percent.
Yet even as overall MBA alumni salaries continue to rise, there is still a disparity in earnings based on gender. But that gap is shrinking. In 2016, men with an MBA earned 39% more than women. In 2020, the gap closed to 20%.
Aside from the expected salary boost an MBA provides, 2/3 of business school graduates8 also reported receiving a promotion after their degree.
Negotiation for a raise promotion is never an easy conversation—with or without an MBA. Check out this helpful webinar for expert tips to make sure you're prepped and ready when the time comes.
Let's explore MBA career paths and salaries
Picture yourself at the podium: MBA degree in hand, ear-to-ear smile plastered on your face, ready for whatever comes next.
Question is, what does come next?
There's really no limit to fun jobs for MBA graduates. An MBA can prepare you to add value in a huge variety of industries—from consulting to technology, healthcare, marketing, financial services, and real estate, just to name a few. The possibilities are as unlimited as your imagination.
According to GMAC, most businesses plan to place MBA hires in roles involving strategy/innovation, general management, consulting, marketing, and project management. Industries offering the highest salaries for MBA holders2 include:
Consulting
Consultants work either externally (via a consulting firm) or internally to help teams manage projects, conduct research, advise on hiring and budgets, and improve overall business performance. Consultants provide expertise across industries and specializations like finance and accounting, marketing, and human resources, just to name a few.
Average MBA starting salary
Financial Services
From large global corporations to high-growth companies, start-ups, asset management firms, and auditing offices, financial services roles are perpetually in demand.
While this industry obviously values expertise in wealth and investment management, auditing, tax accounting, and risk management, more and more hiring managers are also prioritizing communication and management skills in new hires.
Average MBA starting salary
Technology
The tech industry is rich with opportunity for MBA graduates, with roles in information technology, product management, data analytics, marketing, and operations.
And don't overlook areas like people management and leadership roles within this ever-evolving industry. If your MBA education left you with an itch to innovate, technology is a field endlessly open to new ideas.
Average MBA starting salary
Healthcare
In a post-COVID world, new opportunities in healthcare careers aren't going away anytime soon. MBA graduates are well-suited to roles in healthcare administration, medical and health services management, healthcare operations, and process improvement.
Adding a Healthcare Management certificate or concentration adds context and credibility if you're lacking industry experience.
Average MBA starting salary
Product & retail
Commerce makes the world (and the economy) go round—and an MBA provides many opportunities to dive into product, brand, supply chain, and budgeting.
Jobs in retail include retail management, brand management, department management, store design and management, merchandising management, logistics and supply chain operations, process improvement—and many more.
Average MBA starting salary
Even if you don't seek a career in these specific industries, there are many popular (and well-paid!) jobs after the MBA including:
Operations Manager
Business Analyst
Marketing Manager
HR Manager
Creative Director
Product Manager
Chief Financial Officer (CFO)
Chief Operations Officer (COO)
Check out the Tippie College of Business Career Services Guide for an in-depth look at how Iowa MBA students are supported in their job search.
Why am I a good MBA candidate?
A good MBA candidate is ready to commit to a few years of hard work to grow both professionally and personally. They have buy-in from their family, friends, and employer—all who are willing to support them through their journey. And they have a genuine desire to add new skills, make new connections, and progress in their careers.
If you're still not sure you fit the part, ask yourself:
Are you generally curious, with an interest in understanding how all the pieces that make up a successful business fit together?
Are you ready to move into the next phase of your professional career but need a little extra push to get you there?
Do you thrive in a group-based environment and enjoy contributing to the conversation?
Do you consider yourself a lifelong learner?
Do you want to change directions in your career and work in a completely different business function?
If the answer to any of these is a solid YES, then congratulations! You're a good (dare we say, excellent) candidate for an MBA.
I'm ready to apply. Now what?
Gather up your required documents and GO! Most programs require a combination of the following to apply:
Resume
Transcript (from your bachelor's degree program)
Statement of purpose or essay
GMAT/GRE scores (optional for many programs)
For applicants who've been out of school a hot minute, writing a personal essay can feel intimidating. But don't sweat it. Your statement of purpose can (and should) be written in a conversational tone, keeping the focus on your career goals, professional strengths, and how you feel the program will transform your life and career.
"We're looking for applicants to stay within the 500-word limit and provide a true essay, rather than an extension of their resume. A genuine, heart-felt essay will never be wrong. Don't overthink it and try to write something you think the admissions committee wants to read. Write your truth—that's what we want to read."
Write the essay as much for yourself as for the admissions committee. Ultimately, the process will give you focus and clarity, and help you understand if this really is the right time for you to go for your MBA.