Tippie Analytics wins major international analytics award
The Tippie College of Business at the University of Iowa has been honored as one of the top colleges in the world for preparing students for careers in business analytics.
Tippie Magazine is published semi-annually for alumni and friends of the University of Iowa Tippie College of Business.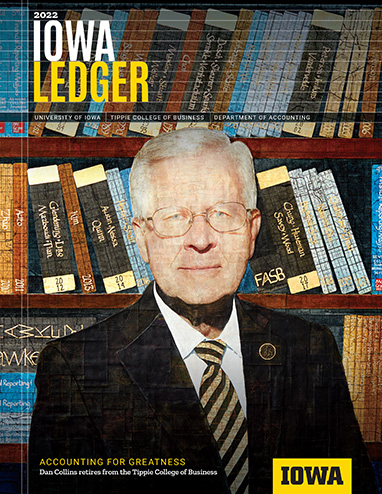 An annual publication for alumni and friends of the Department of Accounting at the Tippie College of Business.
Exchange is an annual publication for friends and alumni of the Tippie College of Business finance department.
Monday, January 30, 2023 12:30pm to 1:00pm
This month's featured Monday Memoir speaker will be Petra Sinagl, Assistant Professor of Finance.
Tuesday, February 7, 2023 12:00pm to 1:00pm
Have an idea for a product or service and want to turn it into a viable business? This workshop covers the Business Model Canvas, a one-page business plan tool designed for new startups and small businesses, to keep track of customer segments, sales channels, income and outflows, and the value the startup provides to its customers. Adjacent topics, including customer discovery and value proposition statements, will also be covered. Taught by Jay Cooper, director, University of Iowa John...
Wednesday, February 8, 2023 12:00pm to 1:00pm
There are many things to consider when preparing for your own death. Do you want to leave a legacy or spend it all while you're here? Are inheritance taxes the same in every state (hint: the answer is no). What are your final wishes and are people prepared (and have you done the proper paperwork) so that those wishes can be followed? What do you need to do if you are wrapping up an estate? Our team of experts will provide guidance and insight to help you prepare. Moderated by Pat Heiden, former...
View more events
Get the perspective of leading women in analytics and learn about their unique challenges and opportunities.
A series of events providing insights and inspiration to women in business in Iowa and around the world.
A workshop dedicated to de-mystifying the field of business analytics and supporting emerging PhD students and post-docs.