Unlock your potential
Stepping onto campus for the very first time can be both exciting and intimidating—but you don't have to go it alone. Launched in 2017, the Tippie College of Business BizEdge Mentoring Program is a mentoring initiative designed to help students of color and first-generation undergraduate business students connect with others who've been there before.
As a mentee, the program will help you quickly form connections, access resources, and navigate your way forward as a Tippie undergrad. BizEdge mentors serve as role models and help guide the next generation of business undergrads to successful futures.
Program mentors and mentees are carefully selected by recommendations from academic advisors and a formal application process. Mentors undergo specialized training to equip them with the skills and knowledge to support their mentees as they transition into the university.
Find out more about the BizEdge Mentorship program
Empowerment, support, connection, inclusivity. BizEdge students are leaders, ready to accomplish big things.
Why become a BizEdge mentee?
Tippie's BizEdge Mentoring Program is a close-knit community where students of color and first-generations can:
Get the support you need
Grow your personal and professional network
Participate in community building, monthly socials, and study sessions
Learn business skills, including professionalism
Connect with faculty, staff, and alumni
Why become a BizEdge Mentor?
As a mentor in our program, you can share your own experiences as well as:
Learn how to mentor and support younger students
Continue to grow your personal and professional network
Help lead community building and social events
Refine your business and leadership skills
Deepen your relationships with faculty, staff, and alumni
Find your community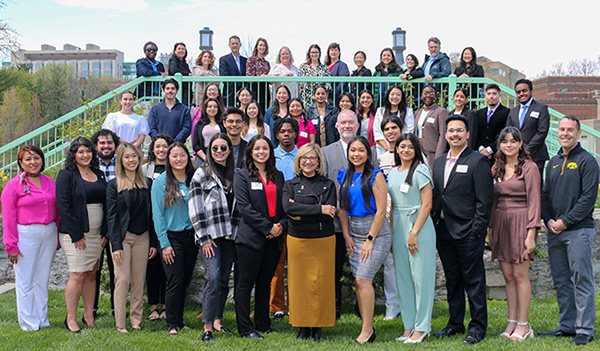 Here at Tippie, we want you to feel at home, thrive academically, and get the most out of your academic experience. And one of the best ways to do that is to find a campus environment that reflects both who you are and who you hope to become.
The BizEdge Mentorship programs provides that opportunity. Mentors and mentees connect with peers who have had similar experiences and who can offer guidance and support. In our program, you'll become part of a robust community that has access to all parts of the Tippie experience.
Interested in joining the program?
Ask your academic advisor for information on how to apply or contact Program Director Gabriela Rivera.